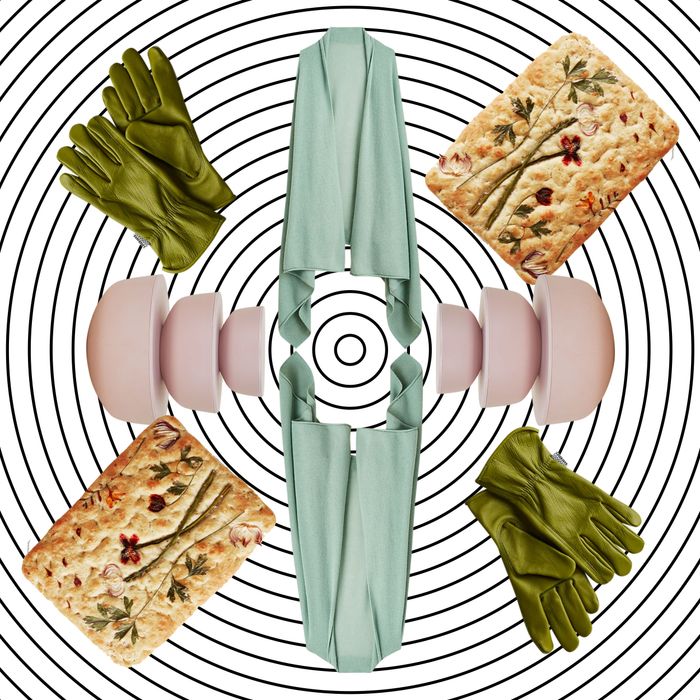 Photo-Illustration: by The Cut; Photos: Retailers
All moms are unique, and the best Mother's Day gifts should be, too. If you're stuck on what to gift your mother, grandmother, or motherly figure, we've curated an in-depth list of the best gifts for every kind of mom — that includes the mom who likes to stay active, the mom who's always baking, and the mom who likes to take on new hobbies.
Read on to see our picks.
For the mom who's serious about cooking
If she's always buying fresh herbs, gift her this herb kit so she can grow them herself. This self-watering kit includes everything she needs to grow basil, cilantro, parsley, lavender, or mint. All she has to do is find a nice sunny spot.
For the mom who loves baking
Offer her a new challenge: mastering the art of focaccia bread. This kit includes everything she needs so she can skip the grocery-store run and follow the step-by-step instructions to create her own bread art. Next stop? The Louvre!
For the mom who loves gardening
Pretty tools for pruning her even prettier garden. This three-piece set covered in the prettiest floral print features a pruner, trovel, and cultivator for tending to or starting a garden.
For the mom who likes to get her hands dirty
If the gardening set isn't enough, these leather work gloves have her hands covered for when she's working in the garden or the yard. Available in three sizes and two colors, she won't mind getting these $20 gloves dirty.
For the mom who likes to stay active
This reissue of New Balance's classic sneaker slips right on, no matter the occasion. With a lightweight foam midsole and extra cushioning, this knit sneaker is made for comfort.
For the mom who always has leftovers
If you always leave her house with days' worth of food, gift her these chic lidded bowls that she can use to prep and store meals and leftovers. The bowls are made of recycled bamboo and beechwood, stackable, and dishwasher safe.
For the mom who's always cold
If she's always pointing out how cold it is, gift her this cozy cashmere wrap. Available in nine colors, this wrap is soft and easy to throw on at home and chic enough for her to wear to her cold office.
For the amateur photographer
If she's always snapping away, gift her this instant printer that will print all her favorite photos straight from her phone. Plus, if she's into scrapbooks, she can stick them anywhere with the included Zink paper.
For the mom who has everything
Jewelry is always a good way to go. This minimal necklace features a gold-filled pendant and gold-plated pendant and is still affordable enough.
For the plant mom
This pretty plant is suited for a mom with a green thumb since fiddle-leaf fig plants require constant care and attention. Consider even gifting her an extra humidifier or a mister so she can help recreate its natural tropical environment.
For the mom who likes to sleep in
She can stay cozy in these fancy pajamas that look more expensive than they are. The lightweight fabric and short sleeves will keep her cool well into the summer.
For the mom who loves skin care
This splurge-worthy beauty oil beloved by beauty editors is the perfect oil to complement her nightly skin-care routine. Its lightweight blend of moisture-boosting squalane, camellia, and baobab-seed oil will definitely leave her glowing.
And is serious about her skin-care routine
This affordable best seller is ideal for oily skin that needs a bit of gentle exfoliation. The lightly foaming cleanser keeps the skin hydrated with glycerin and exfoliates with glycolic acid.
For the mom who takes bathing seriously
Baths should be a luxurious experience, and she knows that. This affordable tray comes with a slot for her wine glass, a stand for a tablet, a phone holder, and silicone grips to keep the tray on the tub and not in it.
For the busy mom
Not every mom has time for bubble baths, but her morning and night showers can be just as luxurious. This shower oil goes on as an oil and emulsifies into a milky foam to moisturize and cleanse the skin. One of the key ingredients is skin-softening almond oil, which lends it its light scent.
For the mom who doesn't need another mug
Retire that "World's Best Mom" mug and gift her this set of latte cups featuring a heart-shaped interior. She'll love drinking coffee and teas out of this dishwasher-safe set.
For the mom who loves to cook
When plastic- and silicone-utensil sets just won't do, this durable, handcrafted set is the perfect alternative. Made for everything from serving to sautéing, this sturdy set can handle it all without damaging your fancy pans.
For the mom who loves to deep clean
Small but mighty, the affordable favorite and best seller is perfect for deep-cleaning furniture and carpeting and even better for spot cleaning. It has a large tank for filling with scented stain remover, and it's ideal for cleaning up after pets and keeping fabrics tidy and fresh.
For the mom who loves to lounge
This fuzzy lounge set is comfy enough to wear every day, according to reviewers, and trust us, she'll want to wear this every day. Coming in three colors (and sizes up to XL), you might want to splurge on them all.
For the mom who loves your art
Her fridge is a gallery of her children's or grandchildren's artwork, and now her robe can be, too. You'll be shipped colored pencils and paper so the little artist in your life can make their own custom design that will be embroidered onto the cozy cotton terry robe.
For the mom who commutes
Made of Italian leather, this structured tote fits everything — like, everything. All her work essentials can be tucked into this tote, from her work laptop and water bottle to her lunch.
For the crafty mom
No art expertise is needed for this painting kit. Featuring a set of brushes and acrylic paints, the kit guides you through painting six pieces of flowers from easy to difficult.
For the mom who loves movie nights
This chunky throw is perfect for décor or cuddling up on the couch. It's available in a few colors for the mom who likes to switch up her décor with the season.
For the mom who needs extra TLC
This foot massager and reviewer favorite has racked up over 18,000 reviews for how well it warms and massages achy feet. Featuring settings that roll and squeeze all areas of the foot, she just might cancel all her future massage appointments.
For the mom who loves coffee
She's never had a coffee maker this fancy. This machine brews coffee, cappuccinos, and lattes and froths your milk of choice. Reviewers love how sleek it is and how easy it is to use.
For the mom who has enough plants
Photo: Courtesy of the Vendor/deirdre lewis
This mushroom-growing kit is a little unconventional, but any mom who loves to experiment with cooking or gardening will appreciate it. All you need is a spray bottle of water to get it to grow, and after a few days, you'll have mushrooms you can cook up and add to your meals.
For the mom who needs peace and quiet
These noise-canceling AirPods will keep her focused all day. Grab them on Apple to add her initials.
For the stylish mom
This coveted Coach bag is back in stock and has four color options. The pillowy shoulder bag is just under $500, and it's a gift you'll both love. Who knows — maybe she'll even let you borrow it.
For the mom who loves to travel
It's rare that a bag that carries it all doesn't look like a gym bag. This one from Béis is the exception. Not only is it chic, it's also functional. At the bottom, there's a separate, water-resistant compartment where you can safely store shoes or toiletries. Plus it has a padded sleeve to safely store your laptop.
For the mom who takes hair care seriously
This limited-edition version of this fan-favorite comes in a pretty fuchsia color. Along with the usual attachments to target frizz and flyaways, this comes with a brush and comb for styling.
For the pet mom
This airtight container keeps food fresh and keeps pets out. The stainless-steel can holds up to 29 pounds of food and includes a scoop for easy feeding — nothing but the best for their fur baby.