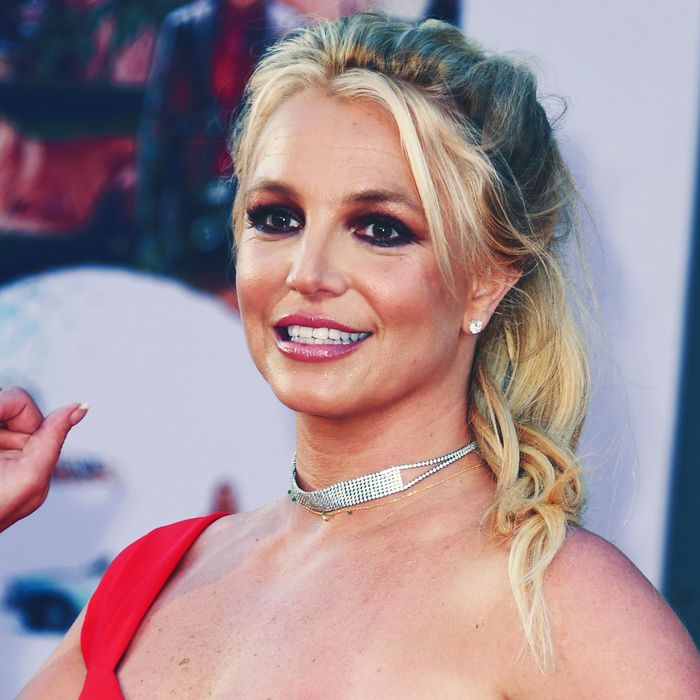 Photo: Valerie Macon/AFP via Getty Images
Britney Spears is a woman of many talents. She's a pop icon, a dancer, an actress, a painter, the fastest woman in the world (or at least in my heart), and has shone a light on corruption within the conservatorship system, the last of which even Congress has celebrated. Now, she is writing a brand-new book. In the words of Spears herself, Mmm, yeah.
Unfortunately, the book is not the paranormal story about a girl who was murdered that she has previously teased on Instagram. However, it is a tell-all memoir that is coming thanks to a reported $15 million book deal with Simon & Schuster. Per "Page Six," Spears's deal is supposedly among the "biggest of all time," comparable to the multimillion-dollar book contracts signed by the Obamas. The book's release date hasn't been announced, and there aren't many (or any) details about its contents, but, uh, Spears has plenty of memoir fodder.
News of her book deal comes just weeks after the ongoing feud with her sister, Jamie Lynn, has started to settle down. Their back-and-forth was ignited after Jamie Lynn published a tell-all book of her own, Things I Should Have Said. Spears has repeatedly spoken out against claims that her sister makes in the book, including the assertion that Jamie Lynn tried to help get her out of the conservatorship. Spears even issued a cease and desist through her lawyer, Mathew Rosengart, which read, "Although Britney has not read and does not intend to read your book, she and millions of her fans were shocked to see how you have exploited her for monetary gain. She will not tolerate it, nor should she."
Given her public issues with her sister's memoir, it's not surprising that Jamie Lynn got a very special mention in Spears' first public statement on her upcoming book. In an Instagram post on Monday, April 4, Spears confirmed the memoir, calling the writing experience "healing and therapeutic," and explained that she would be taking an "intellectual approach" to her memoirs, referencing Justin Timberlake's apology to her and Janet Jackson, saying, "He took the opportunity to apologize 20 years later !!! Timing is EVERYTHING !!!" She went on, taking a dig at both her sister and her mother, Lynn Spears, who has also released a memoir. "My mom and sister also did the 'intellectual approach' in indulgence by writing their own books as I couldn't even get a cup of coffee or drive my car, or really anything," she wrote, adding that she wanted to "TALK ABOUT IT" and her other experiences.
In her post, Spears also said that the conservatorship led by her father "felt like a CULT" and accused him and the conservatorship of forbidding her to enter a Target after driving an hour to get there and of forcing her to work in Las Vegas even when her friends from childhood came to visit her and went to the spa. "I wasn't allowed to go to the spa, so I sat outside and waited," she said, adding that her friends "did not even LOOK MY WAY OR ACKNOWLEDGE me or sow any concern."
"So sorry if I've offended anyone by writing these stories … but as my sister can legally mention my name in her book over 200 times… I also have the right to share a couple of paragraphs on my Instagram," she concluded.
Spears' fiancé, Sam Asghari, commented on the post, writing, "I'm buying the first copy." Sir, I think some Britney Spears fans would love to challenge that statement.