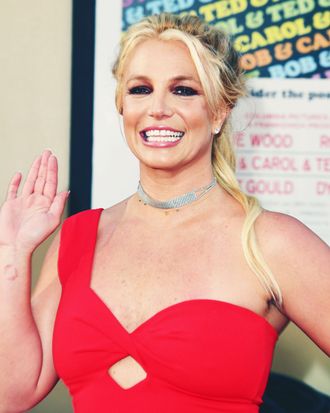 Photo: Steve Granitz/WireImage
It's been a big year for Britney Spears, whose 13-year conservatorship was finally lifted in November. Since then, she has been embracing her newfound freedom, including getting a dog, writing a memoir, and, now, getting pregnant.
Spears announced on Instagram that she's expecting a baby. The post also suggests that she and her fiancé, Sam Asghari, whom she has been dating since 2016, might have gotten married at some point — she wrote in the post that her "husband" told her she was "food pregnant" before they realized she was … just plain pregnant. "I got a pregnancy test … and uhhhh well … I am having a baby," she wrote.
Spears, who has two teenage children from her previous marriage to Kevin Federline, has wanted another child for a while. During her campaign to end her conservatorship, she told the court that she was not allowed to take out her IUD despite wanting to have another baby (her father's attorney later denied this). She also claimed that her conservators wouldn't let her get married, though her personal conservator, Jodi Montgomery, denied the allegation.
She also took the announcement as an opportunity to talk about her previous experience with perinatal depression while pregnant. Perinatal mood disorders are very common, affecting an estimated ten to 20 percent of pregnant people. "I have to say it is absolutely horrible," she wrote. "Women didn't talk about it back then … but now women talk about it every day … thank Jesus we don't have to keep that pain a reserved proper secret."
Spears added that she plans to keep a low profile to avoid press attention. "I obviously won't be going out as much due to the paps getting their money shot of me like they unfortunately already have," she said. Instead, she wrote that she'll be "doing yoga every day" and "spreading lots of joy and love." Amen.
Though her post left some fans wondering if this really was a pregnancy announcement, her fiancé Ashgari seemed to confirm the news hours later with his own Instagram post. Sharing a painting of a lion, lioness, and a cub, he wrote, "Marriage and kids are a natural part of a strong relationship filled with love and respect. Fatherhood is something I have always looked forward to and I don't take lightly. It is the most important job I will ever do."