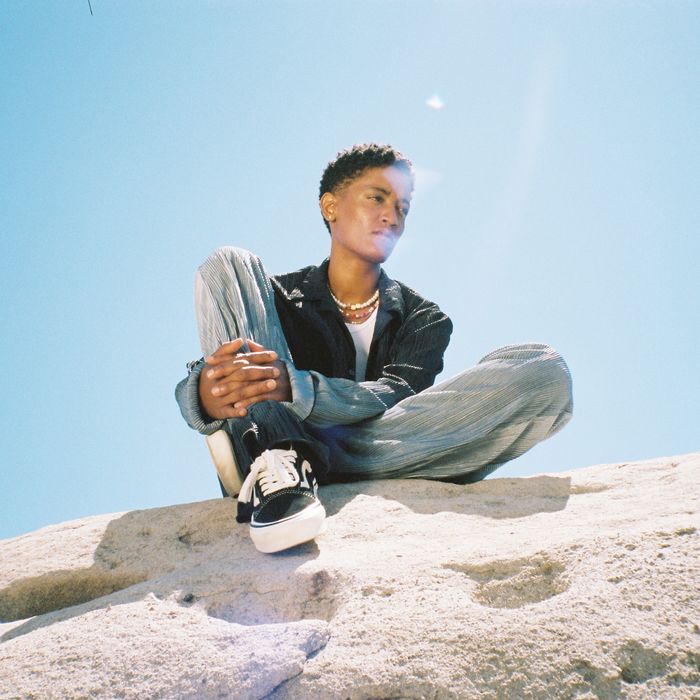 When R&B artist Syd began working on Broken Hearts Club — her first album since releasing the solo projects Fin and Always Never Home in 2017 and Hive Mind with her band the Internet in 2018 — she was writing love songs, not a breakup opus. She was in the thick of a relationship she thought "was gonna last forever" but which instead ended in the 29-year-old's first-ever broken heart. At first, she tried to push ahead and keep writing, to use the heartbreak as motivation. But the songs were "dark with a capital D." So she paused, tended to her 60 houseplants, and healed. "It felt like a rite of passage," Syd says of heartbreak. "And so I embraced it as best I could."
Zooming on a weekday afternoon in March, Syd is far from heartbroken now. Dressed in a 1999 Thundercats shirt thrifted from Utah and a pearl necklace she got on Instagram for 30 bucks ("I thought, I could use some random little necklace to wear around the house"), Syd is ebullient, punctuating each sentence with infectious, winking laughter. "Yeaaaah, good!" she says when I tell her how much I enjoyed the album.
Even her space — a four-story Los Angeles townhouse with white walls and lots of natural light — is bright. She's sitting on the sofa next to a Girls Don't Cry pillow and an Urban Outfitters throw with a giant smiley face stitched on the front. Save for a Jamiroquai poster and an André 3000 blanket, Syd decorated her townhouse with plants. "They're living décor," she tells me. "I don't like buying stuff just because it'll take up space on the wall. I'd rather get me a cool plant that I can raise, that will purify the air and shit like that." She has an entire room dedicated to the plants plus some succulents on her roof. They worry her constantly: There's a plant draining in the sink, and another that Syd keeps staring at "because there's three brown leaves, and I'm nervous." Sitting behind Syd, alongside the leaves and vines, is a whiteboard covered in training instructions for her foster puppy, John Wickham. Wickham — nicknamed Wick — naps off-screen. "If you see me looking away, I'm just watching him," Syd says at the beginning of our conversation. "As soon as this is over, he'll probably be up in my face."
A shift away from the disaffected carnal cool of Syd's previous albums, where bed partners kiss only when they're fucking so no one gets too attached, Broken Hearts Club is a whole story arc of sweet then soured infatuation with Syd's signature poured-silk vocals and a hint of '80s synth vibes. "Could you break a heart if I asked you?" she asks her ex-lover in the album's opening track, which features singer-songwriter Lucky Daye. The question is obviously a doomed one, but the album is so front-loaded with honeymoon-phase tracks that for a while you genuinely forget there's heartbreak to come. Syd sings about wifing a lover, secret car sex, and "gaining access to that ass"; about loving someone so much you don't want to fall asleep and miss the present. The album is equally good at the slow burn of a breakup, capturing the imperceptible shifts that later cause seismic separations. In "Out Loud," a guitar-heavy track featuring Kehlani, the first crack emerges — Syd's ex lover won't reveal the relationship to her friends. From there, the cracks keep breaking. "I didn't mean nothing," Syd concludes in "Missing Out," the album's quietly gutting coda.
"I was over it," Syd tells me cheerfully, about restarting work on her album after the breakup. She and her ex ended things at the "very beginning" of the pandemic, and Syd recalls the strangeness of watching their intimacy evaporate along with everyone else's: "We were scared to touch. People were wearing gloves to touch doorknobs." Those early songs she scrapped "made me sound bitter," she says. "I could not walk around with that ugly bitterness. It was just … not cute." She laughs again. As a self-professed homebody, the isolation of quarantine helped her move on. "I was forced to sit at home and deal with my feelings," she says. She moved into this townhouse after her breakup. "You read stories about people not getting over a breakup for ten years because they just put their head down and go to work. I didn't want that to be me. I was just like, Let me get this over with." She stretches her hands out and cracks her knuckles. "Let me cry for three months, and then I'll be ready to write. You want it to feel good, man."
It's been five years since Syd shared new solo music with her fans, and she's definitely feeling good about it: "For it to have been this long and for me to still feel confident about it is saying something." The writing process has been a mixed bag. Sometimes phrases and bits of poetry come to Syd organically and she'll jot it down. Sometimes her family weighs in. Syd's dad always gives her ego boosts; he likes everything she plays him, and she demonstrates this peak dad energy for me, closing her eyes and pretending to jam out with her thumbs up. Her mother and brother are more opinionated. It was her mother, for instance, who encouraged Syd to get Lucky Daye on the album and her brother who suggested bringing Smino on for "Right Track." Though Syd wrote the breakup tracks after moving on, sometimes she had to stop to avoid retriggering herself, "like, Oh, this is dark! Let's not go there right now — I'm in a better place."
She is. She's also in a new relationship: Halfway into our conversation, Syd's new girlfriend comes in from a casting call and gives Syd a vanilla espresso drink from Supa, a women-of-color-owned coffee shop the two of them love. Syd's girlfriend also brings home Wimbledon, Wickham's puppy brother, a little pitbull-Malinois mix.
If heartbreak is a rite of passage, what's Syd passing into? "Uh, maybe adulthood," she answers. "I'm someone who's always manifested the things that I've wanted. And this was the one thing that just didn't really go my way, you know?" Heartbreak taught her to accept what was outside her control. "You have to learn how to handle that. That's some real adult shit there." This spring, there's some real adult shit to come: She's turning 30 this month, she has a North American tour on the horizon, and the Internet have been talking about doing another group album.
Still, I can't help but imagine it must be painful to perform songs and do interviews about an album inspired by a heart-wrenching time. Nope. "I feel a sense of positivity about it," she says. In fact, it feels good to talk about the hurt — it's allowed her to form deeper connections with fans who've experienced something similar. "It's something you either can relate to or you understand that the day could come for you as well." Broken Hearts Club is a time capsule of that day, of a corner of adulthood where people are more broken but also more whole. "I feel proud of myself," Syd says, grinning. "I'm excited to go out and show the world what I just overcame."