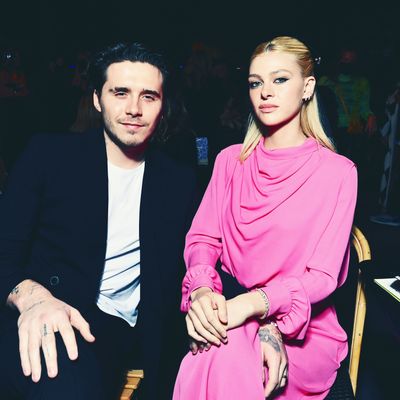 Photo: Pascal Le Segretain/Getty Images
Ding-dong! That's the sound of wedding bells, if you couldn't tell. Over the weekend, Brooklyn Beckham, a chef and the eldest son of David and Victoria Beckham, got married to Nicola Peltz, an actress and the daughter of model Claudia Heffner and billionaire businessman Nelson Peltz. The wedding was a modest affair, like one you or I might throw.
Just kidding! The ceremony took place at the Peltz family's oceanfront estate in Palm Beach. Nicola wore a custom Valentino gown and very '90s square-toed chunky shoes. Brooklyn wore a Dior suit decorated with an emerald-cut-diamond chain. Vogue has exclusive photographs of the occasion. Some of their 500 wedding guests included Serena and Venus Williams, Eva Longoria, Marc Anthony, Gisele Bündchen, Snoop Dogg, Gigi Hadid, Gordon Ramsey, and three Spice Girls — Victoria, obviously, as well as Mel B and Mel C. If it's any consolation to the rest of us, Prince William and Kate Middleton were reportedly invited but are rumored to have RSVP'd "no."
Brooklyn, 23, and Nicola, 27, got engaged in 2020 after reportedly dating for seven months. They hit all the major relationship milestones quickly: She got his name tattooed on her back; he got a significantly less subtle back tattoo depicting her eyes and a love letter she presumably wrote to him; she has a necklace with one of his wisdom teeth plated in gold. (Not to worry! He also has one of hers.)
While it's unclear whether they exchanged any more teeth or tattoos along with their vows, they both (sort of) took the other's last name: Nicola's last name will be Beckham, and Brooklyn will take Peltz as his middle name.
Congrats to Mr. and Mrs. Peltz Beckham. Wishing you many years of happiness and unconventional gifts.