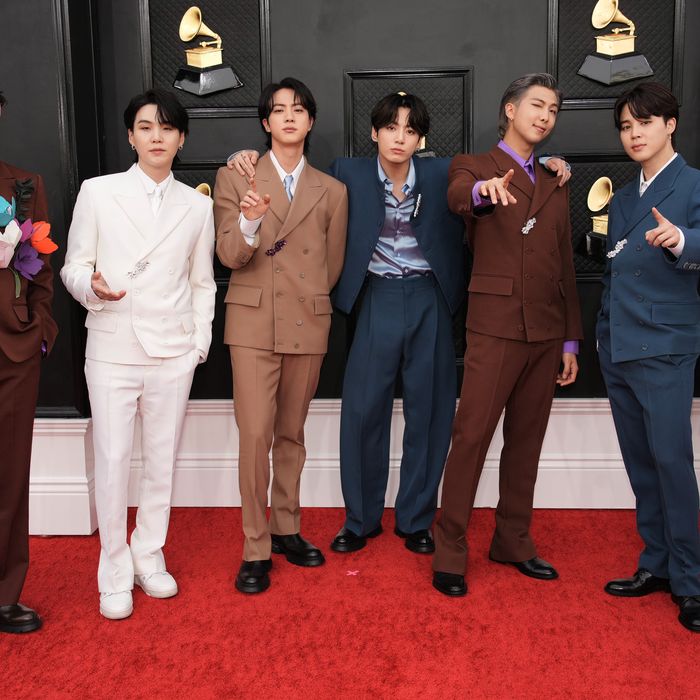 Photo: Jeff Kravitz/FilmMagic
Thank the K-pop gods. Just 24 hours ago, Jungkook was sitting in quarantine after testing positive for COVID-19. But on Sunday, April 3, he was out and feeling good on the 2022 Grammys red carpet with the six other members of BTS. And later, he was back on his feet dancing up a storm during BTS's electrifying performance of "Butter."
Dressed in Louis Vuitton, the men of BTS wore almost identical suits in four different colors — white, tan, brown, and blue — with each member sharing a color with a buddy (RM and V were in brown, J-Hope and Suga in white, and Jungkook and Jimin wore blue) save for Jin, who got to be the only one in a light tan suit. The group even coordinated accessories, with bejeweled pins on their jackets, though V went in a different direction with a giant broach of paper flowers.
BTS is up for Best Pop Duo/Group Performance for their hit single "Butter," which they performed tonight. They traded in their colorful suits for all black outfits for their performance, which took the "Butter" lyric "like a criminal undercover" to a brand new level. The elaborate performance featured the seven BTS members as, well, undercover criminals. They started out seated in the audience, giving us a very special Olivia Rodrigo-BTS moment fans will no doubt be talking about for years to come. Then they dodged security lasers and brought out a whole group of backup dancers/criminals undercover.
The performance was especially impressive, given that they almost had to do it with six members instead of seven. Jungkook tested positive for COVID-19 on Sunday, March 27, and has been self-isolating since, in the hopes of being better in time for the Grammy Awards. Luckily, it seems like he had a mild case. On Saturday, he got his wish: Big Hit Music released a statement saying that, he had a "mild sore throat" during his quarantine, but was otherwise fully recovered. The statement also clarified that Jungkook had taken a "rapid antigen test" to be cleared for the Grammys. So, if there is a COVID breakout after the awards, it wasn't him!