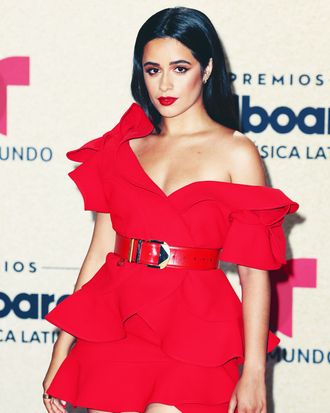 Photo: Alexander Tamargo/Telemundo/NBCU Photo Bank via Getty Images
This weekend, Camila Cabello took to Instagram to call out the paparazzi for ruining what was supposed to be a relaxing beach vacation in Miami. "Somehow when I check in paps know and get me in my bikini and I feel super vulnerable and unprepared," wrote Cabello, who says she spent the rest of her vacation sucking in her stomach until her "abs hurt" and she couldn't breathe. "I barely smiled and was so self conscious of where the paps were the whole time I couldn't let go and relax and do what we're meant to do when we go out into nature," she wrote. "I've never had a worse time at the beach," she said.
Cabello — whose album Familia comes out later this week — has long been an advocate for body positivity. Nevertheless, in her post, she admitted that she has seen "pictures online and comments and been so upset." She added that she listens "to podcasts on intuitive eating, follow women who accept their cellulite … and still. I'm a single woman in her 20s doing a shit ton of promo and I want to feel like I look 'good … I'm not yet at the point in my journey where I feel like I can't give a fuck," Cabello, who announced her split from Shawn Mendes last fall, wrote.
Cabello is far from the first celebrity to speak out against the paparazzi and the negative pressure they put on women's body image and self-esteem. After paparazzi took photos of her post-kidney-transplant figure in Sydney, Selena Gomez clapped back against online criticism with an elegant beauty-myth takedown. Hilary Duff once posted a photo of her butt in a bathing suit and told the paparazzi to simply "#kissmyass." "Ps I ran away to the Pool area where hopefully they can't get me but they literally hide in the bushes sometimes I'm exhausted," Cabello wrote. Please let this woman swim in peace.