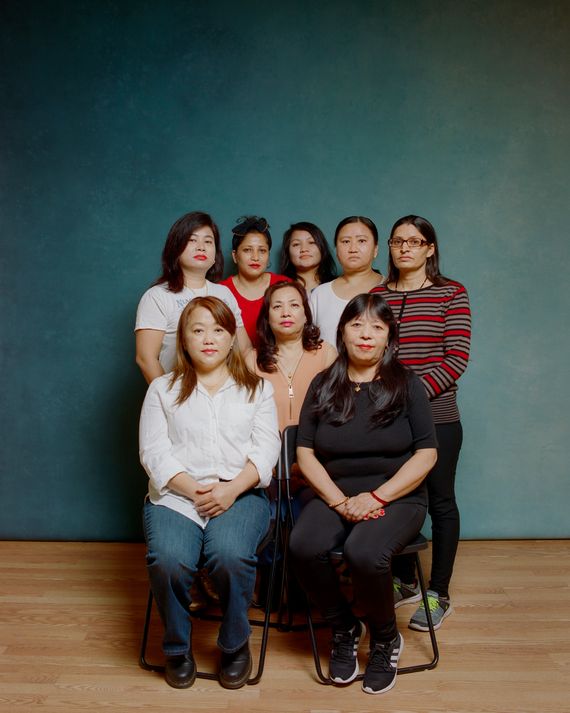 Photo: Steven Molina Contreras
When Yashoda Rai left Nepal in 2017, it was because the U.S. was her "dream country," she said. She had won the visa lottery and came to New York to start a new life. Needing a way to support herself and her two children, Rai soon found work in nail salons, which employed many of her Nepali-speaking peers in working-class Queens.
Dressed neatly in the scrubs she wears for her second job as a medical assistant, Rai sat at a table inside a community center operated by Adhikaar, a workers-rights organization based in Woodside, and explained that while the nail-salon industry keeps her dream of making it in America alive, she is exhausted and eager for change. "It's not easy to survive here," she said.
Through a translator, another nail-salon worker, Shanti (who asked to go by a pseudonym for fear of retaliation) added, "I think in every industry there are good things, then there are bad things. I don't think that's unique to the nail industry. But, sometimes, I think about how we've invested so many years" — 12 years on the job in Shanti's case. "Sometimes I question, What are we getting out of it?"
Rai and Shanti shared complaints one by one: Their hours are unpredictable, and their breaks aren't fixed. They work daily with harsh chemicals that dry their skin. When COVID struck, the small salons that employed them often failed to provide adequate protective gear like masks. Finally, the customer is always right, no matter how cruel or oblivious they might be.
"We have this pressure that you finish a service in an hour, right? And we can't speak up if a client takes 20 minutes to choose a color," said Shanti. "What that means is that you have barely 45 minutes to do everything, and you're rushing it. That impacts the quality of service and what they think of you." Shanti said she's expected to perform other services (like waxing or massage), though she doesn't get paid for the extra work. "It's stressful," she said.
Rai and Shanti offer an unflattering glimpse into an industry that came under intense scrutiny in 2015 — after a comprehensive investigation in the New York Times revealed widespread exploitation in the city's nail salons. Out of more than 100 workers interviewed at the time, a quarter said they received the equivalent of minimum wage for their work. "All but three workers, however, had wages withheld in other ways that would be considered illegal, such as never getting overtime," the Times reported. Those problems persist today, according to the workers organized by Adhikaar and its coalition partners, who report rampant wage theft, reduced hours, and unhealthy work sites that expose them to potentially risky levels of chemicals.
Exploitative nail-salon owners take advantage of a vulnerable workforce. Nationally, about 80 percent of nail technicians are women, said Lisa Fu of the California Healthy Nail Salon Collaborative. "About 80 percent are also foreign born — so immigrants or refugees."
From its base in Queens, Adhikaar organizes Nepali-speaking workers from countries that include Bhutan and India. They belong to a key worker demographic: According to a recent report from the Worker Institute at Cornell University, 88 percent of nail techs in New York State are born outside the U.S. and 73 percent identify as Asian or Pacific Islander. They earn, on average, $13.87 per hour — far less than a living wage in New York State. In the New York City metro area, the average wage is even lower at $13.74 per hour. 
Like Rai, most nail techs support families on their low wages — often while facing health risks from work-site chemicals. Nail techs frequently work with products that include ingredients associated with serious respiratory illnesses, the Times reported in 2015. The poorer a salon's air quality, the likelier it is that its nail techs breathe in particles that could make them sick over time. A 2016 New York State Department of Health review of chemical agents used in nail salons cites "some consistent evidence that nail salon workers are more likely to report non-specific symptoms such as mucous-membrane (eye, nose, throat) irritation, skin irritation, and headache than comparison groups." The nail techs I spoke with were also concerned that their friends reported reproductive-health problems like miscarriages, though there's little research linking these events to chemical exposure at work.
New York legislators have taken some steps over the years to protect nail techs from unsafe and exploitative working conditions. After the Times published its blockbuster investigation, the state began requiring salons to display a manicurists bill of rights where workers and customers can easily see it. In 2016, an additional law required nail salons to provide ventilation.
In 2019, nail-salon workers and other tipped workers won the right to a $15-per-hour minimum wage. While that was an improvement over the previous status quo, Shanti said that salon owners still find ways around the law. After the Times published its story, Shanti began to notice that customers would ask her if she'd received her tip. "Or they would ask us, 'Oh, are you okay?'" she said. "One thing I notice is that even though there are salons that fulfill the $15, they cut commission or the employers themselves are telling clients, 'You don't have to give tips.'" Shanti added that $15 per hour "is not a living wage. And cutting wages on top of that is not right."
The pandemic added new layers of hardship to the job. When the virus struck, salons closed. "Even when they opened up, business was very slow," Shanti said. A fall 2020 survey by the New York Nail Salon Workers Association found that 51 percent of respondents had yet to return to work. Nearly half of those said they were out of work because either their salon remained closed or the owner "has not called them back in."
"The pandemic just totally upended the nail-salon industry," Fu said, and nail techs bore the heaviest burden. "There's no way to physically distance when you're giving a manicure or pedicure to another person." A February 2021 NYNSWA survey found that "29 percent of workers reported that they had tested positive for COVID, and an additional 9 percent said that they believe they had the virus but were unable to get a test." More than half of workers surveyed said that "they were currently not working in a salon," and many others reported reduced hours that undercut their wages.
"One of the biggest challenges that I've seen is that our schedules have been really horrible," Shanti said. She added that workers are "completely at the will of the employer," who may call a nail tech the day of a scheduled shift and tell them not to come in — depriving them of pay and upsetting child-care arrangements. Two years into the pandemic, Rai said a five- or six-hour shift is common, but that's not enough pay for workers to support themselves. "We have to pay the rent. We have to feed our kids," she said. "We have to survive. It's not easy."
Protective gear can still be hard to come by. "Some places will give it to us," Shanti said. "But one thing is that employers will make comments like 'Maybe you're using too many' and make us feel bad if we're using too many gloves and masks." Fu said nail techs should have been a higher priority for vaccination, testing, and access to PPE. "All of these barriers really amplify and show that this is a community that has traditionally been ignored because of race, class, and gender. That's not okay."
In New York, nail techs and their advocates believe they've crafted a solution that will help workers and owners alike. Together with Adhikaar and a broad coalition of unions and community organizations, they are campaigning for a new bill that would create a minimum-standards council for the nail-salon industry. Introduced by State Senator Jessica Ramos and Assemblymember Harry Bronson (both Democrats) in January, the Nail Salon Minimum Standards Council Act would bring workers and salon owners together to establish safety standards for the industry and determine wages and benefits for workers. A committee of economics experts would establish a pricing model for salon owners.
Prarthana Gurung, Adhikaar's director of campaigns and communications, points out that many salon owners were once nail techs themselves. Salons are often so small (with one or two manicure stations and perhaps three or four employees) that Gurung calls them "micro-businesses." The pandemic has been difficult for the owners too. "Over COVID, we started working with about 70 or so employers — just to give out information about reopening or small-business support," Gurung said. She believes the minimum-standards-council legislation "is an opportunity for us to really influence and develop employers to become high road, to be able to understand why centering workers rights is actually in everyone's favor."
Deepa Shrish Singjali worked as a nail tech for three years before purchasing Mandala Nails & Spa in Ridgewood, Queens. She knows the industry and its problems well: "Things like not having time off, paid sick leave, breaks, not enough wages — all of these issues," she said though a translator. "I have a lot of friends who are still nail techs, and they talk to me about the issues that they have on the job." To Singjali, the minimum-standards council would be "a good opportunity for us to be able to come together, workers and employers, to balance things and figure out how we want to fix the industry."
Price minimums could help bring other employers onboard. That means clients should be prepared to pay more for an ethical manicure. "As a lifelong Queens girl, I am someone who has been getting my nails done since I started to work at the age of 14," State Senator Jessica Ramos said. When a person gets their nails done, "what we're wearing is artwork," she added, "and I don't believe that we've been compensating our nail artists in the right way."
The price of a manicure may go up if the bill passes, but that means Shanti and Rai will be closer to realizing their dreams. The U.S., they've discovered, is a work in progress. And like generations of immigrant workers before them, Shanti and Rai are helping to shape their new home into a better version of itself. They know that they can't do it alone.
On a cold April morning in Zuccotti Park, Rai joined Adhikaar and other coalition members to make their case directly to the press and public. They sang, danced, and challenged onlookers. "It pains me to say that after this many years in the industry, we are here and we still have to fight for what we believe is basic, basic human decency," said Maya Bhusal Basnet, who is on the steering committee of Adhikaar's Nail Salon Workers Association. "For so long, we have organized. We have won improvements," she added, but nail techs need the rights they enjoy on paper to be enforced. "How are we supposed to choose between one or two meals a day — just because we're not able to get guaranteed scheduling and guaranteed hours?" she asked. "If workers are happy, then clients are happy. If clients are happy, then employers are happy. Everyone is happy."