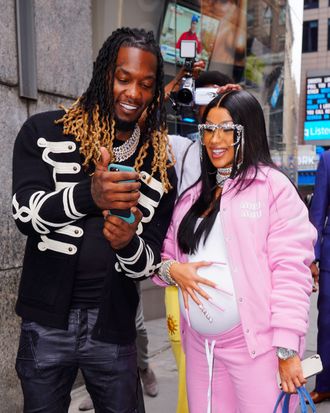 Cardi B and Offset's youngest child officially has a name, and, contrary to my theory, it does not start with a "K" like Kulture, their 3-year-old daughter, or Offset's other children from previous relationships, Kalea and Kody (he is also dad to Jordan). Please meet Wave Set Cephus.
Cardi and Offset announced the name on Instagram Thursday, April 14. Cardi kept her post mysterious, sharing the first photos of her 7-month-old looking very warm and comfortable in a puffy jacket, beanie, and sweats with an emoji caption of a dinosaur, a wave, and a teddy bear. The caption was vague, but it's the big chains on the little man that tell the story. In his very first public photos, Wave is wearing what looks like a giant diamond chain made in the shape of a wave. So, yeah, he's not named dinosaur or bear. He's Wave, and he's got the jewelry to prove it.
Offset was more forthcoming in his post, sharing a photo of the new baby in a bath (still wearing chains) and the caption "WAVE SET CEPUS." The announcement was seemingly planned to coincide with the reveal of the family's Essence cover, which will feature Offset, Cardi B, and their extremely stylish blended family.
Hopefully, Cardi won't pull a Kylie Jenner and announce in a few months that Wave isn't her baby's name, but I'm guessing it's safe. One does not buy their baby a diamond chain representing their name if one does not intend to keep it.