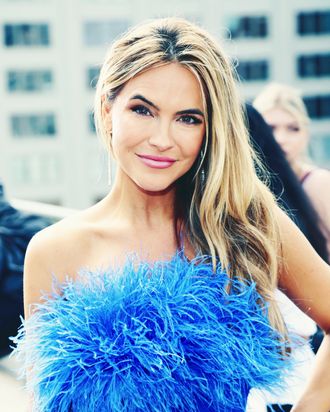 Chrishell Stause, a genius.
Photo: Manny Carabel/Getty Images for NYFW: The Shows
What is one to do with their wedding ring after a divorce? Bury it in the backyard? Throw it into the ocean? Put it in a blender and see what happens? Selling Sunset's Chrishell Stause has one idea: Pawn it, baby!
During a recent appearance on The Kelly Clarkson Show, Stause said that she sold her old wedding ring to help pay for her new house. "When sometimes life gives you lemons, sometimes you've gotta add a little vodka," she said. I hope she cross-stitches that on a pillow to put in her new home. "I was trying to, you know, make the best out of a situation." Hell yeah you were, Chrishell.
Stause and her ex-husband, This Is Us star Justin Hartley, got divorced in 2021. According to Stause, Hartley texted her to tell her he'd filed the paperwork. Ouch. What could soothe a burn like that? Maybe … selling the ring to buy a house?
This isn't the first time Stause has talked about pawning her wedding ring. "Moving into my home, a home I'd worked hard to earn (okay, fine, selling my wedding ring helped), was a major milestone that I won't forget," Stause wrote in her book Under Construction: Because Living My Best Life Took a Little Work. A book title if I've seen one!
Of course, this all begs the question … how much was the ring?? Presumably enough to contribute to a down payment on a $3.3 million house. I think if I sold all of my accessories, I could perhaps afford an Uber Black.
Regardless, congrats to Chrishell and her new house.