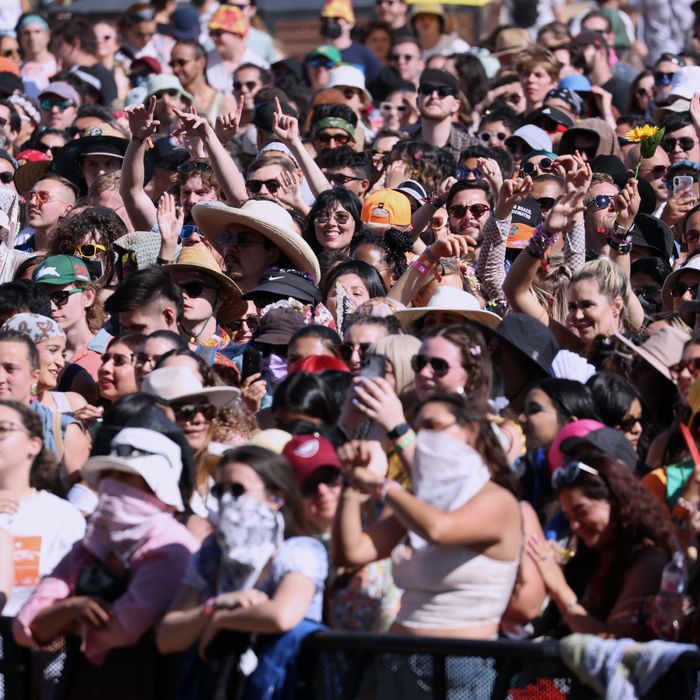 Photo: Amy Sussman/Getty Images for Coachella
Over the past two weeks, thousands of people gathered in the California desert for Coachella, the annual music festival where influencers and celebs go to revel under the shelter of palm trees and crocheted bucket hats. Like many large in-person events, Coachella endured a two-year hiatus because of the pandemic, and its 2022 return raised eyebrows when the festival's website confirmed in February that no proof of vaccination, negative COVID-19 tests, or masks would be required to attend.
Now, people are reporting they have "Coachella cough," which is apparently a term festivalgoers use to describe the inevitable result of inhaling a Dune-worthy amount of desert dust for 48 hours straight. It sounds pretty miserable … and also kind of like COVID?
Ironically, while Coachella's website does not urge any kind of mask-wearing to prevent the spread of disease, it does recommend face coverings to minimize how much dust enters your mouth. Still, there do not seem to have been many masks present at the weekend's outdoor events, and unsurprisingly, the Coachella Valley's nine cities are currently seeing a huge spike in coronavirus cases. Plenty of attendees have already returned with positive tests. But even for those whose symptoms are caused by a lung full of sequin-flecked dirt (there are plenty of pre-pandemic posts lamenting "Coachella cough"), that sounds pretty rough, too. We would all like to see Harry Styles in a deep-V bodysuit, but is it really worth hacking up a lung?