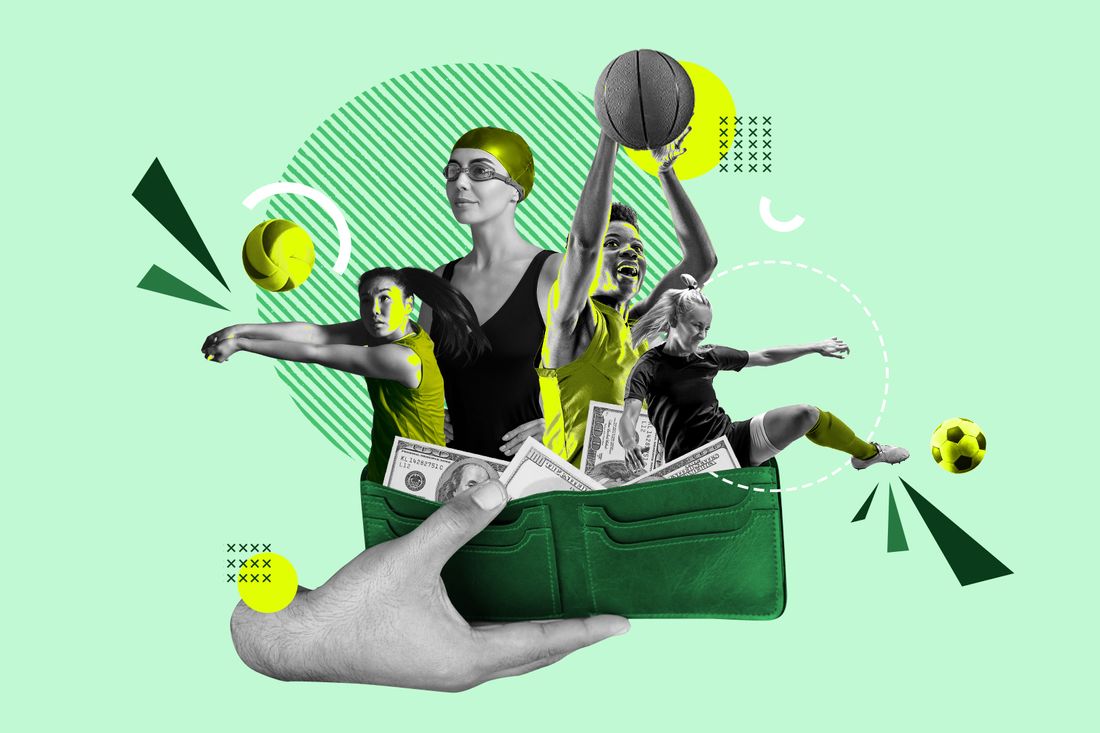 Photo-Illustration: By Sarah Rose Greenberg
You may not have heard about it, but last year marked a watershed moment in college athletics: For the first time, the NCAA allowed student athletes to profit off of their name, image, and likeness (a.k.a. NIL.) That NIL ruling suspended previous NCAA guidelines against student athletes using their talent and clout to make money through sponsorship deals, personal merch, brand endorsements, and more. Though the ruling has opened up new doors for student athletes across the country (you can now be a social media influencer and a star basketball player), it hasn't come without some bumps in the road.
For one, since the rule change went into effect last year female athletes have received fewer sponsorship opportunities and lower compensation than their male peers. (According to a study from Opendorse published in late February, 71.7% of NCAA NIL deals have gone to men while 28.3% have gone to women.) In an arena (no pun intended) where women are already at a disadvantage compared to their male counterparts, it's a disappointing but unsurprising development. When female college athletes are already fighting for more awareness and more attendance at their games, trying to compete for brand deals adds another layer of stress.
"One major challenge [for female college athletes] is the inequality and lack of visibility to our contribution in and outside of our sport," track and field athlete Masai Russell says. "We need more people to come to our track meets, our basketball games, or whatever the case may be. We need more people to understand the amount of work that we put into our sports." Basketball star Caitlin Clark agrees: "We're all going through the same things right now, getting more people to watch our games and support us — I think that's the biggest thing we're fighting for."
Additionally, all the extra income made from NIL deals has altered these young athletes' finances drastically, including making filing taxes more complex. (And even in the easiest of financial situations, most of us could use a little help filing our taxes.) These athletes are now essentially entrepreneurs and CEOs, with a new income stream that — as anyone who's ever made money from social media knows — can be unwieldy. They may have paychecks coming in from various platforms and brands, all with different tax forms and fine print. For full-time students and athletes, it's a lot to juggle without professional help, as most don't have the time or the financial confidence to manage it on their own. "Learning about your taxes is something new, and something very important for us going forward," Clark says.
In order to address both of these issues, tax preparation company H&R Block launched a program to provide $1 million in sponsorships and support for female college athletes, in addition to complimentary tax preparation services. The goal is to help these athletes gain financial confidence by offering expert advice and help with tax implications. To kick off the program (aptly named "A Fair Shot"), H&R Block partnered with a wide roster of female college athletes including Clark, Russell, basketball player Zia Cooke, and many more women representing sports including volleyball, softball, and more.
All of the athletes agree that managing their new roles as businesswomen with their academic studies and their packed training schedules can be difficult, but they've been able to find the confidence to make it work. "Being a student athlete, especially with the new NIL rules, means juggling a lot for the best reasons," Cooke says. "H&R Block is standing up for female student athletes by not only supporting us financially but making sure we're set up for long-term success in understanding the tax implications of the money we're earning from our name, image, and likeness."
H&R Block CEO Jeff Jones hopes that the program will help these athletes, as well as other women who look up to them, find the confidence they need to help their business empires thrive. "Zia talks about making history being in the group of the first student-athletes to navigate going to school, practice, living on their own and now navigating NIL," Jones says. "New income and business deals with brands can bring a lot of change fast. We hope to help these students have financial confidence."
"[The NIL rule change] has opened up a totally different universe of pay opportunities for me, valuable open doors that didn't exist one year ago," Russell says, adding, "It's a lot to juggle. No doubt about it. But I have the right support and the help I need to achieve balance. My mother is an accomplished surgeon and very well-versed in the business world and she supports me in everything I do. I draw a lot of support from my family and friends."
Though there's still a long way to go to achieve equity in collegiate athletics and in the monetary opportunities that the NIL ruling represents, these athletes and H&R Block are helping to level the playing field and inspire other female athletes to have confidence in themselves. "I think we get overlooked in a way — it might not be purposefully, it might be purposefully," Cooke says, "but I think a lot of people are choosing to take a stand to help women's basketball, putting a light on us, shining on us, standing up for us and helping us out."
And for anyone wishing to support these athletes, or any female athletes in their lives, follow Russell's advice: "Come to our track meets and cheer us on! Whatever the sport is, we need to have more individuals coming out and supporting us. Bring your loved ones. We believe everybody should see how energizing our competitions can be."
This advertising content was produced in collaboration between Vox Creative and our sponsor, without involvement from Vox Media editorial staff.