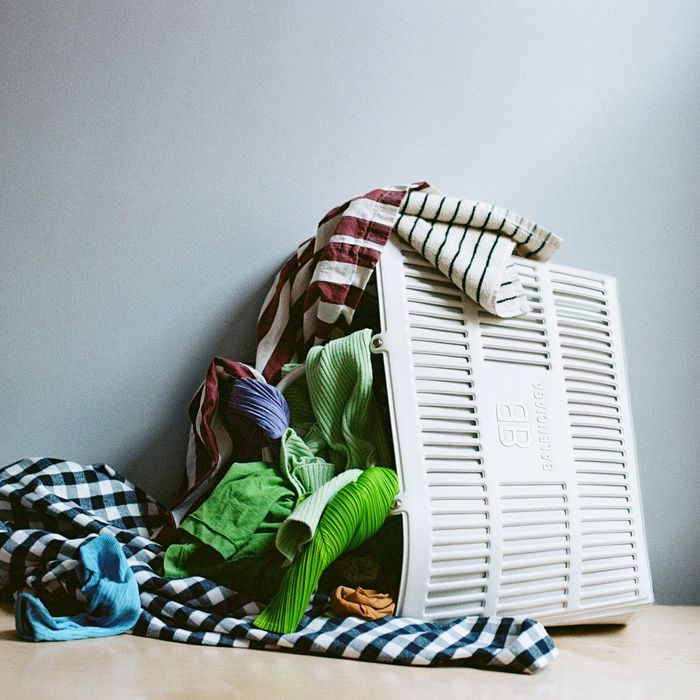 Demna's spring 2022 Balenciaga show was centered on space — in this case, cyberspace. All 44 looks were shown on the artist Eliza Douglas or CGI versions of her — the first hint at the collection's post-surrealist undertones. Several corners of the technological world weave through stitches and tucks — hacking, authenticity, digital identity, and visual distortion.
The "Mag Basket" bag, one of just a few accessories in the brand's spring collection, stands out for its roomy form (L19,6 x H11,8 x W5,7) and unique production methods. Shown on the runway in four colors — white, blue, red, and green — and styled with oversized coats and rubber boots, the white basket bag dimples and flexes like an ever-useful Ikea tote. Instead of cheap plastic though, a buttery thermoformed leather gives the tote its form, while vaguely referencing the shoppers of your local, family-owned organic market.
The top layer of heat treated leather — which undergoes a production process most commonly used on plastic — calls to mind that in-the-moment emergency errand bag. The white basket bag occupies the space between formality and ease for $3,050.
Every product is independently selected by our editors. Things you buy through our links may earn us a commission.