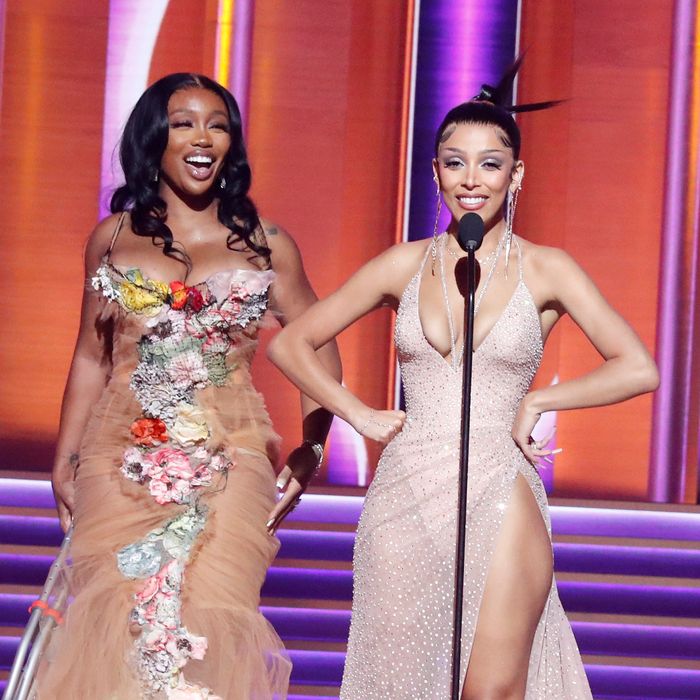 Great work, Doja and SZA!
Photo: Johnny Nunez/Getty Images for The Recording Academy
It takes hard work, dedication, and perseverance to pee very fast. Fortunately, Doja Cat was up for the task Sunday night at the 2022 Grammy Awards in Las Vegas.
When Avril Lavigne — yes, our sk8r girl was there! — announced that Doja Cat and SZA had won the Grammy for Best Pop Duo/Group Performance for "Kiss Me More," only SZA stood up to accept the award. Lady Gaga assisted her up the stairs, helping adjust SZA's train as she took the stage. A gorgeous moment! But Doja? Hello? Where was she?
Why, the bathroom, of course!
"I've never taken such a fast piss in my whole life," Doja Cat said after running onstage. She proceeded to give a very sweet speech, one that felt especially meaningful given her recent announcement that she intends to quit music. "I like to downplay shit," she continued. "But this? It's a big deal." It is a big deal, Doja! However, it is the extremely fast piss I would like to focus on. Has the word "piss" ever been said on the Grammys stage? Is this the first time?? I'm going to assume so.
Speaking of firsts, this is both SZA and Doja Cat's first Grammy win. Doja Cat received eight nominations this year for her 2021 album Planet Her. I am unsure whether this is Doja Cat's first time peeing at an awards show. Regardless, congratulations to SZA, Doja Cat, and Doja Cat's bladder on this historic moment.