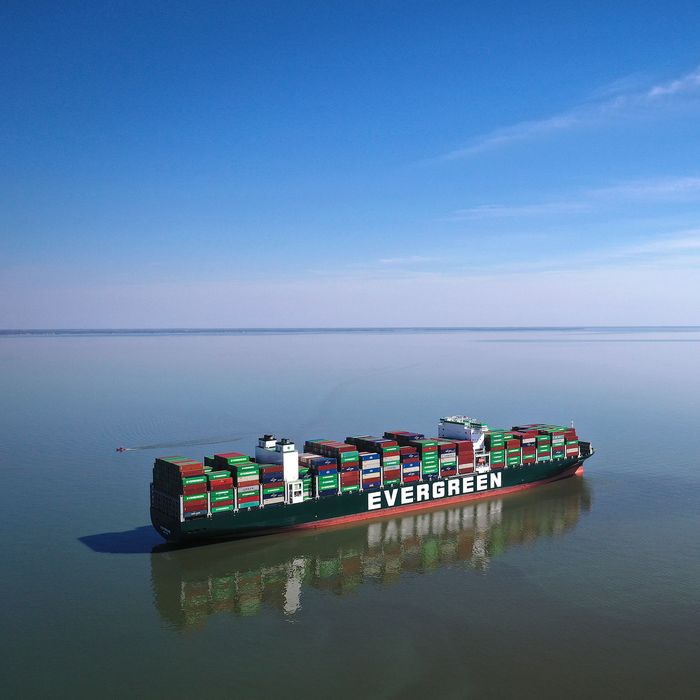 Did you hear her cries for help?
Photo: Win McNamee/Getty Images
While you were busy with your little liquid rhinoplasties and your Jack Harlows, yet another Evergreen container ship got its huge, gorgeous ass stuck mid-transit. This time, it was the Ever Forward — we love an ironic name — that found herself mired in the mud of Chesapeake Bay for an entire month. But fear not: She is now free.
On Sunday morning, the 1,095-foot Ever Forward was unstuck with the help of two pulling barges, six tugboats, and the removal of hundreds of shipping containers. She is risen! "The vastness and complexity of this response were historic, as an incident like the Ever Forward grounding, in type and duration, is a rare occurrence," said Capt. David O'Connell, the commander of Coast Guard Sector Maryland–National Capital Region, according to CNN. Vast and complex? Sure! A rare occurrence? Tell that to the Ever Given, who was famously big and stuck the same time last year!
As you'll recall, Ms. Given found her 1,300-foot self stuck in the Suez Canal in March 2021. The week-long blockage led to some supply-chain issues and many a wonderful meme. Fortunately, she was eventually freed with the help of the moon. While the Ever Forward's recent blockage didn't cause nearly the same impact — no offense, Chesapeake Bay — it is notable that this big boat was stuck for an entire month and … there was hardly a fuss? Where were the boat memes, the encouraging tweets to the Ever Forward to push through? I suppose I will forgive the collective public so long as there is at least one (1) stuck boat I may worship every spring.