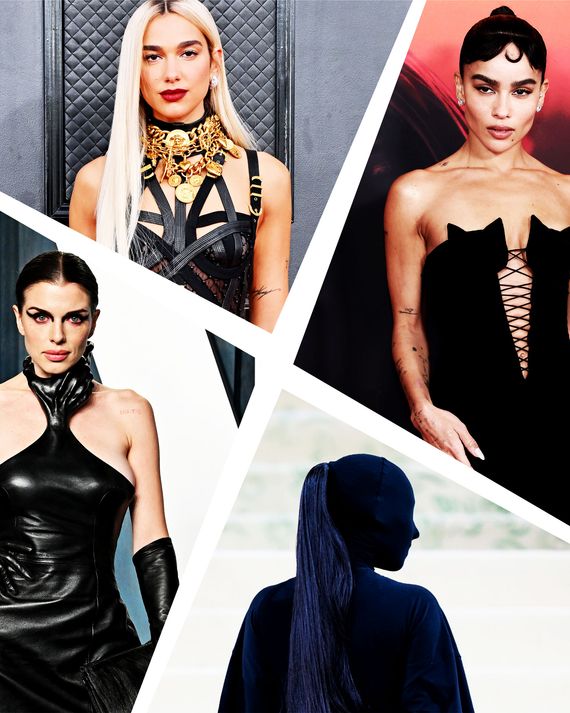 Photo-Illustration: The Cut. Photos: Getty Images
At the Grammy Awards earlier this month, Dua Lipa arrived on the red carpet wearing a re-creation of a dress from Gianni Versace's famous Miss S&M collection. It consisted of a black lace corset top, which was harnessed with several belts, and around her neck she wore layers and layers of gold chains that appeared to almost choke her.
When Versace first showed this bondage-inspired look on the runway in 1992, "it sent the fashion crowd into orbit," as Tim Blanks said in his video dispatch at the time. Some thought the collection was too aggressively sexual to sell. "Chic or cruel?" read a New York Times headline about it. Others saw it as culturally relevant — perhaps a response to the AIDS epidemic with its "look, but don't touch" attitude, Blanks later said.
Thirty years later, the Miss S&M look still provokes a reaction, but it has become more familiar, as countless celebrities have worn versions of it since, from Lady Gaga to Beyoncé to Kim Kardashian. Dua Lipa's choice to wear it at this moment in time aligns with a more general spike in interest in the BDSM aesthetic, or fetishwear, again. Onscreen, we're seeing it in films like The Batman with Catwoman and her latex and leather costumes. Julia Fox, a former dominatrix who personally embraces the style, wore a dress by Han Kjøbenhavn that quite literally choked her to the Vanity Fair Oscars after- party in March. Before that, British designer Richard Quinn invited drag queen Violet Chachki to walk his fall runway show in full latex with a gimp on a leash. And a few weeks ago, Kardashian wore a latex gown and choker to the premiere of her new Hulu show, after wearing a number of other bondage-inspired looks in recent months.
Fashion has long mined the aesthetic and culture of BDSM (bondage and discipline, domination and submission, sadism and masochism) for inspiration. Although it's still not entirely destigmatized and is often reduced and misrepresented, the lifestyle has gained more mainstream attention since the 1990s. Franchises including Fifty Shades of Gray — and, more recently, brands such as Savage x Fenty and music videos like Megan Thee Stallion's "Body" — have contributed to this. You can now find its influence on the runway just about every season and at such mass-market retailers as Zara and Shein. On TikTok, I recently came across a video in which a young woman gives lighthearted tips on how to style a harness with everyday clothes.
"It has become accessible," says professional dominatrix Mistress Marley. "Before, you had to ask around in the community where to buy these things, or you saw it in sex-toy shops. It's not something we saw on FashionNova or in Forever 21. You used to have to go look for it."
According to Lyst, a shopping search engine, there's more interest right now in what it calls "fetish-core." Month-to-month searches for "harness" on the platform, for example, increased 136 percent from mid-March to mid-April. Leather choker sales have grown 103 percent since the start of 2022, and searches for chokers in general have more than tripled compared to this time last year.
Interest is translating offline as well. "We are seeing lots of non-BDSM people coming in for all kinds of fetishwear and collars for dance parties," says Lolita Wolf, manager of Purple Passion, a BDSM, fetish clothing, and adult-toy store in New York City. She says they've also seen an increase in sales for chest harnesses and leg/hip harnesses in particular, including a popular vegan leather harness. But why now? "A lot of it is coming from party promoters who host these BDSM-themed events and then require dress codes," Wolf offers as one explanation.
"In times of crisis, don't be surprised to see whips on the catwalk," says Betony Vernon, author of Boudoir Bible, who coined the term sado-chic in the '90s with her line of luxury erotic jewelry. A global pandemic certainly falls under that category, but its effects are, of course, unique. "People are suffering from skin hunger for sure," she continues. "There's often a response in extremes. Now that we are back out again, people want to express their sexuality and their identity. They want to say: Come and get me. I'm feeling sexy. I'm connected to my body. I'm proud. I'm choosing, and I want to play." 
"For some people, it gives off a sense of: 'Look at me,'" adds Mistress Marley of the style. "To even wear an outfit like that, you have to have confidence and you have to be bold. It gives people self-esteem and power when they wear it, and I definitely feel the same way."
In addition to attracting attention, it also signals to others that you might have similar interests. "In the vanilla world — we use the word vanilla for those who aren't in the BDSM community — even people who don't understand kink and BDSM and the power of it, they still want to feel like they belong," Mistress Marley says. "Some people like to do things just so people can ask them: Are you into this?"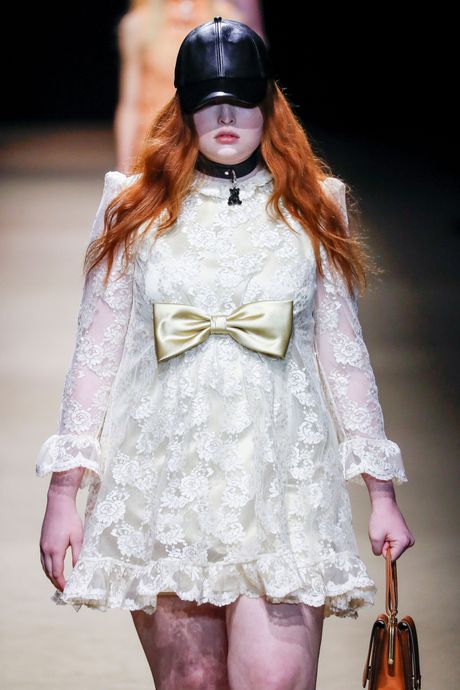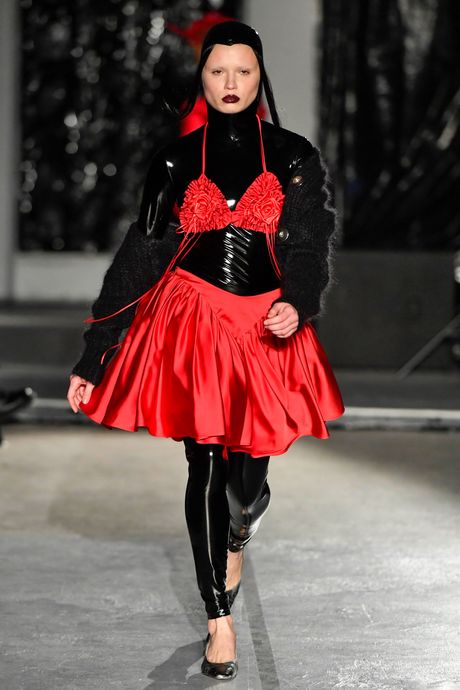 On the flip side, fetishwear can allow for anonymity, with looks and accessories that cover your entire face and body. "You become a little bit less human, because you're more like a mannequin," says Mistress Iris, another professional dominatrix, of wearing something like a head-to-toe latex look. "You might be objectified more, and a lot of people may not enjoy that feeling, but some people might find a little freedom in that anonymity. You can exist without people knowing your history, your race, your gender, or your socioeconomic status."
Between the pandemic and climate change, it's fitting that more people would be drawn to looks, materials, and practices that create some distance or provide a layer of protection from others and the outside world right now. "Latex is commonly referred to as a second skin; you almost feel naked in it," adds Mistress Iris. But at the same time, "it's completely airtight; it doesn't breathe."
Fashion can serve as an entry point for people to explore what they like and don't like in more intimate settings. Do you enjoy the restrictive feeling of latex or a corset, for example? Or does it make you too uncomfortable? As you explore, it's important to be aware of what you're stepping into and not just blindly follow trends with no context.
"Latex is very easy to sweat in, so you have to be mindful of your environment. Like, how's the weather today?" says Mistress Marley. "For instance, I wouldn't wear a latex outfit if I'm going to do something outside in the summer; I just wouldn't do that to myself." Baby powder helps, she offers as a piece of advice for novices. Size up. Drink lots of water. And if you can, bring a handheld fan with you. As for corsets: "When you're first starting out, please lean on a friend," she says. You're going to need someone to help you lace it up.
"I don't like to suffer. Some people do, and that's fine, but I like being comfortable," says Mistress Iris of her own wardrobe. As a dominant, she strikes a balance between commanding power with what she wears, and also catering somewhat to male fantasy. "I definitely think: Okay, how can I mix things that make it a lot more comfortable? Like if I'm going out to a dinner party, maybe I'm wearing just a little black dress with a harness over it," she explains. "I think most women can relate in terms of wearing high heels. It's like, Okay, how long is this event? If I wear this pair of shoes, am I going to be suffering at the end of it or not?"
One thing she can do that is unique is have her submissive clients take care of her. That could mean asking them to massage her feet or even act as human chairs. "Things like that allow me the freedom to to wear these beautiful pieces of clothing all night long," she says.
In general, both Mistress Iris and Mistress Marley are encouraging when it comes to the "vanilla world" embracing their aesthetic. "I'm definitely not a gatekeeper. I think it's great that it has become popular," says Mistress Iris. And who knows, maybe some of these celebrities are kinky behind closed doors.
"Because I come from a fashion background, I love seeing all the looks," notes Mistress Marley. "Maybe more people are just seeing that we have badass outfits and are paying attention to us."
At the same time, "I think it is important to highlight, for those who are not aware, that the people they are inspired by are being silenced," says Mistress Iris of other doms like herself. Her Instagram account was recently deleted with 150,000 followers, she told me, and she says brands often don't repost when she tags them — even though she's wearing looks inspired by her community. "The sad reality is that people who inspired this get erased from the public, while people who kind of appropriated it get to keep existing," she notes.
"It's like, Okay, you want to utilize what we do and what we wear. But at the same time, you're not donating to our community; you're not donating to sex workers; you're not standing up for our rights. So sometimes we do feel like we're just being used as an aesthetic and no one's taking us seriously," says Mistress Marley, particularly of brands. "The biggest flack that the BDSM community gets is that we're weirdos; that we're into all this crazy stuff. But then they turn around and use our look as an aesthetic. If you're going to use it, actually reach out to us and use us and consider us."