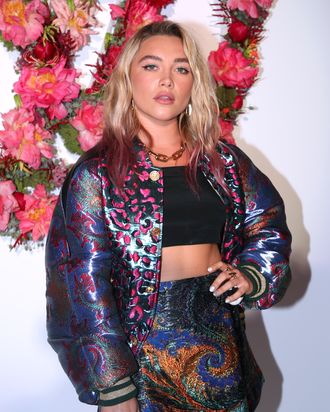 Photo: Bertrand Rindoff Petroff/Getty Images for Louis Vuitton
In the wake of Kourtney Kardashian and Travis Barker's recent not-a-real-wedding wedding, it can be hard to remember that there actually are Hollywood couples who don't wear all black all the time and smash tongues on every red carpet. In fact, some celeb couples are so low-key that, sometimes, you might forget they exist, only to be shocked when you're reminded. Prime example: Florence Pugh and Zach Braff, who I completely forgot were dating until Pugh wished Braff a happy birthday on Instagram on Wednesday, April 6.
Pugh celebrated Braff's birthday with three separate photos on her Instagram story, all featuring him and their dog, Billie. She kept the message simple, writing, "Happy Birthday Zachary!" Simple, to the point, and just enough of a public display to remind us all that they are, in fact, still together.
It's almost a miracle people even forget that Braff and Pugh are an item given the intense scrutiny they received in 2019, after going semi-public on Instagram. When Pugh started to become a household name, thanks in large part to her role in Little Women, fans all of a sudden started wondering why this (then) 23-year-old actor was dating the (then) 44-year-old star of Scrubs. The conversation about their age gap escalated after Pugh shared a birthday post for Braff in April of 2020, and it got so bad that the actor decided to speak directly to her followers to shut the discourse down for good. "I am 24 years old," she said in an Instagram video. "I do not need you to tell me who I should and should not love. And I would never in my life, ever, ever tell anyone who they can and cannot love. It is not your place. And really, it has nothing to do with you." (Remember when this was news? We were so young then.)
Needless to say, the discourse about their relationship soon died down, which is how we got here, to the year 2022, when it's possible to simply forget they are a thing. Hopefully this birthday post won't spark another round of Zach Braff negativity, and I don't think it will. I guess there are upsides to not french kissing on red carpets or attached by the pinkies.