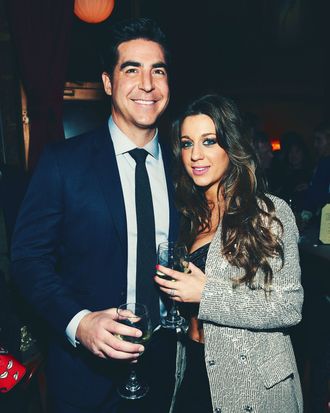 Jesse and Emma Watters.
Photo: Craig Barritt/Getty Images for LCPRE
Fox News commentator Jesse Watters thrives on fuckery. He's known for classic bits like this racist video segment in which he mocks Chinatown residents. He's had his fair share of scandals, like the time he conveniently went on "vacation" after making a crude remark about the way Ivanka Trump holds a microphone. So it should come as no surprise that he recently gloated about the stalker-adjacent behavior he employed when first dating his now-wife. Yet the story still manages to be more terrible than you may expect.
During a recent episode of The Five — a Fox News panel show that plays in the lobby while you're waiting to get into hell — Watters shared this fun anecdote: "When I was trying to get Emma to date me," he began, "the first thing I did? I let the air out of her tires." Haha, what?
"She couldn't go anywhere," he continued. "She needed a lift. I said, 'Hey, you need a lift?' She hopped right in the car." The other four panelists laughed and laughed. Fox News' resident comedian (??), Greg Gutfeld, jokingly said, "You're basically the Zodiac killer." No no, Greg. That is, of course, Ted Cruz. When fellow panelist Jeanine Pirro asked, "Is that the first time you did it, or did you use that before?" Watters paused before saying, "Works like a charm." … Cool.
Watters, 43, and Emma, 29, got married in 2019, the same year he and his ex-wife, Noelle Inguagiato, got divorced. Inguagiato reportedly filed for divorce in 2018 amid rumors that Jesse was having an affair with Emma, who was his co-worker at the time. So really, what's a little tire deflating on top of all that?
If you're curious as to how Emma reacted when she found out about his fun little scheme … who knows? According to Watters, he never told her. Of course, now she and the rest of the viewing public are fully aware of the bizarre lengths to which this man went to allegedly cheat on his wife. Haha, I hate it here!