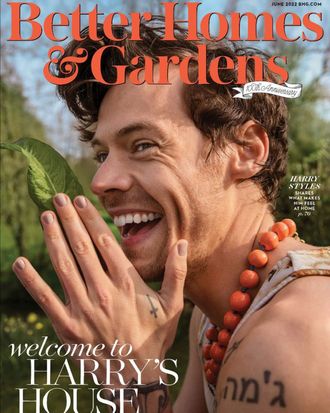 Photo: Tim Walker for Better Homes & Gardens
Last we saw Harry Styles, he was hanging out in a minimalist upside-down living room, which was disorienting and also made everyone want his couch. But like many of us, he appears ready to make an aesthetic pivot. In his latest interpretation of the "home," which is the theme of his upcoming third album, Harry's Home, Harry has appeared on the cover of Better Homes & Gardens, where he can be seen giggling amid some greenery and exuding big-country-house energy.
He's not alone in suddenly being struck with the desire to drop everything and take up permanent residence in a rural home, ideally a converted farm. Think Coastal Grandmothers but with open fields instead of beaches, or Audrey Gelman opening a country store in Brooklyn. Few are immune to the siren call of vaguely rural surroundings — not even Harry, a man known for wearing boas and making people want to have an orgy. And while we have seen Harry in a field before, never has he made it look quite so … alluring.
Better Homes & Gardens, a magazine whose average reader is a 55-year-old woman, is the perfect vehicle for this mood. It is here, sandwiched between a guide to strawberry hydrangeas and a how-to on weed identification (not that kind of weed), that we find Harry, the sexy puzzle piece that completes this totally realistic image of life in the country. Despite the magazine's name, the photo shoot took place in neither a home nor a garden but a field, where Harry did a weird headstand and let some lucky blades of grass hang out on his head. In the one photo taken inside the house, Harry is the picture of domesticity, grinning in linen pajamas behind a breakfast tray with flowers on it, his pristine toe peeking out of his sock. This is what farm life looks like, yes?
Luckily for us, Harry isn't done blessing us with pastoral content. According to the interview, his new album, which comes out on May 20, is filled with little vignettes of country life with a tattooed musician, with lyrics such as "sitting in the garden" and "maple syrup, coffee, pancakes for two." Harry's home, indeed.