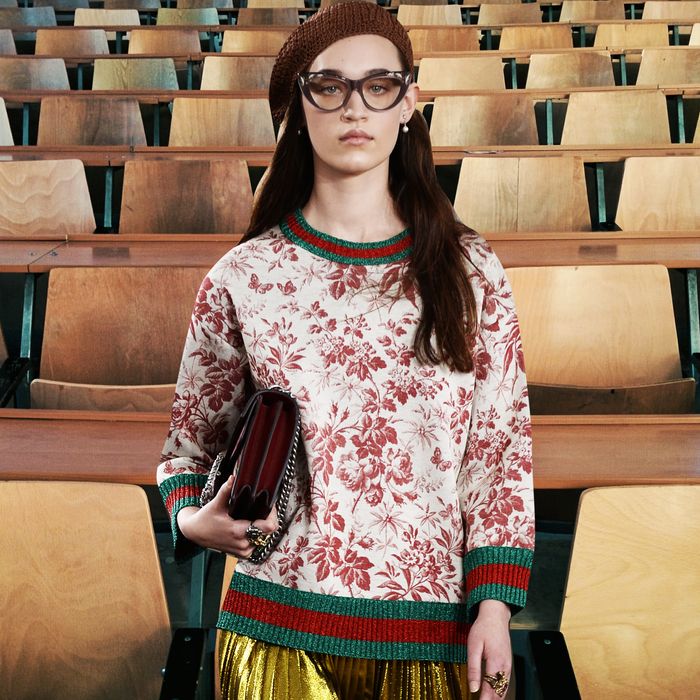 Photo-Illustration: by The Cut; Photos: Getty Images
Last week, when Gucci creative director Alessandro Michele appeared onscreen at a Harvard University lecture hall, gasps and nervous giggles filled the room. He was Zooming in from his office in Rome and sat on a bright-purple satin sofa that matched his pastel-purple corduroy pants. His long, well-conditioned hair fell past his beard onto his shoulders, and gleamed under the brand's Hollywood-level lighting rig. The only thing perhaps more stunning than his virtual presence was the fact that it was for a class at Harvard — a place not exactly known for its style — and that the subject of the class was philosophy, no less.
Titled "The Ego in Things: Fashion As a Moral Laboratory," the class is now in its ninth week and was conceived of by visiting Romance languages and literatures professor Emanuele Coccia, who previously taught at the École des Hautes Études en Sciences Sociales in Paris. The syllabus begins with the assertion that "fashion is an art," then delves more deeply into how said art can be used to construct our identities and shape culture. It concludes with a more specific look at Gucci and the work of Michele, who is known for quoting philosophers such as Foucault and Derrida in his runway-show notes and with whom Coccia is in the process of writing a book on philosophy and fashion.
It is without a doubt the only class on campus whose homework includes readings by Donna Haraway, a Gucci press release that quotes her work, and a YouTube video of the brand's fall 2019 runway show. Students could recall only one other course on fashion ever being offered at the university — "Fashion and Slavery," taught by the writer and historian Jonathan Square in 2019 — and many of them expressed frustration that the subject isn't taken more seriously by the administration and their peers.
"Fashion at Harvard has been implicitly and sometimes explicitly looked down on as vapid and superficial," said Tania Veltchev, a junior in the class who's studying psychology. She pointed to an "overwhelming lack" of fashion-related classes, resources, and job postings as evidence.
"I came to Harvard and understood one thing quickly: This is a place where style goes to die," echoed her classmate Kyle O'Connor, a junior studying history and science. "Every student has the same black Canada Goose paired with the same Air Force 1's, etc. Harvard is a place where students compete for the title of the biggest brain and won't let distracting clothes dull their intelligence. Where is the playfulness? Where is the fun?"
Coccia also said his peers have been suspicious of fashion as an academic subject. At a prestigious dinner on campus recently, he recalls one guest asking him how he managed to talk for two hours about clothes. "The problem is that I have so much to say and so little time," he sighed after walking me through the syllabus, which ends with an essay by Virgil Abloh and a YouTube link to Balenciaga's recent short film with The Simpsons.
Over the years, students have started fashion-related publications on campus, including Fig., which was founded in 2018, and Lavender Room, which launched this year. But Coccia's class has been another way for those interested in fashion to find each other. And the interest is huge. Coccia said he had originally been booked to teach in a small classroom, but around 55 students enrolled, with another 15 auditing, so they had to move to a lecture hall. Even more showed up for his discussion with Michele last week — in their best outfits, of course. I saw Telfar bags and Valentino Rockstud shoes. When one student wearing a silk scarf in front of me opened his laptop, I couldn't help but notice he'd been consulting with a classmate over text message about what to wear.
Coccia began his discussion with Michele by asking him about his fall 2015 men's show, which was his first as creative director for the brand. It opened with a male model wearing a red pussy-bow blouse — a garment Michele had grown up seeing his grandmother wear as well as his school teachers and other "well-ordered" bourgeois women. He explained that when designing the collection, he took articles of clothing like this from his own past experience and tried to recontextualize them, putting them on someone like Harry Styles and styling them with beanies and baggy dress pants. He realized he could create something new by scrambling preexisting dress codes, and this sort of mixing and matching — or "alchemy" or "hacking," as he likes to call it — would become his signature design method.
In other words, by combining a garment that communicates one thing (e.g., a bourgeoisie woman's blouse) with another that conveys something completely different (let's say hippie sandals), Michele is, in a way, creating his own language, or style — one that hopefully translates as distinctly Gucci to consumers.
Talking about this design process with his partner, Giovanni Attili, an academic in Rome, Michele also realized that philosophy could help him better articulate his ideas. In his second show notes, he included quotations from the Italian philosopher Giorgio Agamben ("Those who are truly contemporary are those who neither perfectly coincide with their time nor adapt to its demands") and Barthes ("The contemporary is the untimely"), whose work Attili introduced him to. Now, it's his preferred mode of communicating. Some find it illuminating; others roll their eyes. "Gucci put turbans on white models and explained it with cyborgs and Foucault," read one headline after the fall 2018 show.
Students admit that sometimes the material can be a bit dense — even for them. "I always leave this class super-confused but not in a bad way," said Onyx Ewa, a sophomore applying for a special concentration in visual culture, fashion, identity, and social change. "I'd always considered fashion to be really expansive and important to our world, but this class has shown me that it's so much more than I had ever really considered."
They're also not afraid to challenge Michele's work. When the class discussed his first collection and his boundary-breaking pussy-bow blouse, for example, a question was raised: "Is it really doing anything if the body — white, male, Eurocentric — is already the archetype or the norm?" said Audrey Dilgarde, a senior in the Romance languages and literature department. (Agamben's more recent writing about the pandemic has also received pushback online.)
Coccia seems to welcome debate, and like Michele, many of his students feel they now have the language not only to articulate what interests them about fashion but also to defend the subject more easily in the eyes of the administration and their peers.
"If I hadn't found this narrative way, maybe I would've left fashion," Michele said of using philosophy to describe his work.
Who knows, maybe one day, you'll be able to graduate Harvard with a major in Gucci.