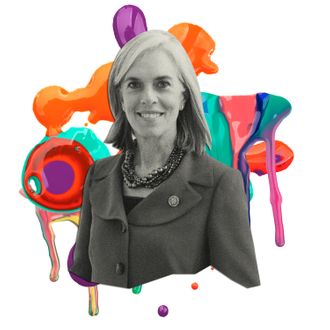 Photo-Illustration: by The Cut; Photo: US House Creative Services
Assistant Speaker Katherine Clark doesn't hesitate to outline the challenges members of Congress face: an unrelenting schedule, frustrating deadlocks in the legislative process, long periods of time away from family, threats on a regular basis, extreme political polarization, a steady diet of bad airport food — the list goes on. And yet, if she could travel back nine years ago, to when she first ran for Massachusetts's Fifth Congressional District, she'd do it all over again. "When I meet constituents who we've been able to help find housing, access health care, it's all worth it," she says. "Those policies and changes that we fight for in our caucus — reshuffling that deck to put the American people on top — it really is just … I can't imagine a better sense of fulfillment and mission than the work we're doing at this time."
Clark began her political career 20 years ago in a suburb north of Boston, serving in the ​​Melrose School Committee. She was later elected to the state's House of Representatives and Senate before winning a special election in 2013 to replace now-Senator Ed Markey in Congress. Since then, she's climbed through the ranks of the Democratic Party fairly quickly, serving in several committees, as vice-chair of recruitment for the Democratic Congressional Campaign Committee (DCCC), as v​​ice-chair of the House Democratic Caucus, and now as the fourth-highest-ranking member of Congress. Because of her "career-long habit of making friends" and laser focus on building consensus, Clark has often been floated as Speaker Nancy Pelosi's potential successor.
She splits time between D.C., where she is roommates with New Hampshire representative Annie Kuster, and Massachusetts, where she lives with her husband, Rodney. Here is how she gets it done.
On her morning routine:
I wake up around 6:30 a.m. I hate to be cliché, but the first thing I do is reach for my phone and look at what news has already started the day. My routine varies a little depending on whether I'm home or in D.C., but the absolute mainstay of my morning is a minimum of two cups of coffee. Usually I am more in the four-cups range. I am a skip-breakfast or maybe-have-a-banana kind of person. On my ideal morning, I get a run or a walk in, but that also really varies. In Washington, the day usually starts at eight, and so I'm out of the house before I can get that done. My commute is extremely short, but I am basically emailing, texting, and talking on the phone with my colleagues and staff from when I wake up until I go to sleep.
On her day-to-day as Assistant Speaker:
I'm spending more time in the Capitol and in-person meetings, but we're still mixing in a lot of virtual ones. It is a packed schedule. What's really important to me in the role of Assistant Speaker are the conversations I have with my colleagues, whether that's a quick text message or catching them on the floor, coming out of a meeting. My theory of leadership is that the individual member's success is going to yield success for our caucus and success for American families.
On managing stress:
When I am home, it is definitely walking my dog. I am also completely addicted to my iPhone camera and I take endless pictures with it. I'd like to think of myself as somewhat of an amateur photographer, although it really is just a way to stop all the events of the world and focus on something that is beautiful or funny that you can snap a quick pic and just make a little log of life outside of politics and the real challenges that we're facing as a country and a globe.
On her congressional cohort:
I wasn't really expecting, when I came to Washington at 50 years old, to meet a whole new set of friends, but it has been delightful. Talking to other moms about how they're dealing with their kids, their teenagers, their aging parents — those conversations have been so helpful. How do we handle family and career and do our best to be successful at both, when that sometimes feels like an impossible task? To meet outside with a group of members, take a walk, have a chance to safely get to talk and connect with each other really helped get through those days of the pandemic shutdown. Those habits have continued. The group includes my roommate down here in Washington, Representative Annie Kuster from New Hampshire, and we often go with Representatives Julia Brownley, Grace Meng, Suzanne Bonamici, Chellie Pingree. We're on a text chain too!
On unwinding at the end of the day:
My days are really long. Typically dinner has been stolen from different receptions that I might have been at. I usually get back home between 10 p.m. and 11 p.m. Even though the days are so filled, it is often hard for me just to go to sleep, even though I'm exhausted. So I do try to read at night, and a lot of times I wake up around 3 a.m. with the book beside me. I am trying to remain a current member of a book club — we are reading David McCullough's The American Spirit right now. I also like to binge TV that lets you just turn off your brain and just relax. For example, I just finished the new season of The Marvelous Mrs. Maisel.
On the one thing that grounds her:
There is a picture of the late Representative John Lewis outside of Representative Steny Hoyer's office in the Capitol. I walk by it frequently and I always touch it just to remind me of him, of why we're here, of why we do the work we're doing on behalf of American families. That photo of John is a reminder to be courageous, to do what's right and lead with love.
On the highs and lows of government service:
Sometimes people feel that being in Congress is more glamorous than it actually is. There's a lot of running around, a lot of flights, a lot of bad, expensive airport food on the go. There are also incredible opportunities, like being able to go to the White House or having a Zoom meeting with women who are in the Ukrainian Parliament. Their stories and their pleas for aid were so moving and powerful. We have the ability to help them, to pass what might seem like a small line item tucked into a budget but that can help millions of people have a better life. It makes it all — the difficulty, the being away from your family a lot, the living with threats to your own security, the schedule that is unrelenting — very much worth it. The American people have to know that we are fighting for them. While this job can be exhausting and demanding, it is also an incredible privilege to be able to serve in this time of great challenge.
On a time she felt she was failing:
There was definitely a period when I was first elected to Congress and it was extremely challenging. I had children at home — then 17, 13, and 11 — and both of my parents, who lived next door, were very ill. My mom had Alzheimer's and my dad had had a debilitating stroke. Trying to manage care for the five of them, to be present for them and for my husband, while commuting back and forth to D.C. was extremely difficult. Often I would get back from the end of the week in D.C. and just sit in my driveway, not knowing which house to go into and who to care for first. I often felt like I was letting everybody down. It has also sort of fueled my fight for families to get a fair shot, because I realize as hard as that was, I had a supportive spouse, I could take time off from work if I needed to, and we had the resources to get some help when we needed it. That's not true for most families in this country. Those years and how hard they were fuel my desire to help American families meet those challenges in their lives.
On ambition:
Ambition is a word that I used to hear as something derogatory. As a woman, I was very uncomfortable with thinking of myself as ambitious — even as I was running for state legislature, for Congress, for leadership posts in Congress. Over the years, I have come to say, "I am ambitious." I am also ambitious that we bring women's voices into government, ambitious for American families, and I am ambitious that we fulfill the qualities that we talk about in this country: equality and liberty and justice for all.
On one thing she still wishes to accomplish:
Universal pre-K. We're going to get there.
This interview has been edited and condensed for length and clarity.