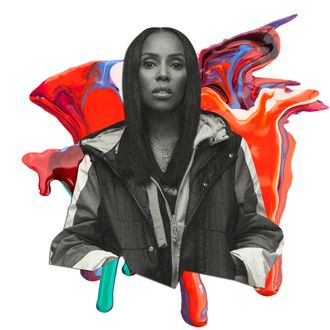 Photo-Illustration: by The Cut; Photos: Courtesy of PUMA
June Ambrose made her name as the visionary behind some of the best-known hip-hop music videos of the early '90s. (That famous blow-up suit that Missy Elliott wore in "The Rain (Supa Dupa Fly)"? It was Ambrose's idea.) She went on to work as a creative director and costume designer for clients including Alicia Keys, Mary J. Blige, and Jay-Z (whom she styled for both On the Run tours as well as Black Is King). But she wanted to be known for more than her costumes and styling — "I never like being put in a box," she says — and signed on to become a creative director at Puma shortly before the pandemic struck. Last year, she debuted Puma's first women's basketball collection, a line of bold, bright athletic gear that could be worn on and off the court … or, more realistically these days, on Zoom. 
Here, Ambrose talks about finding inspiration online, putting on heels even when she works from home, and how she stays creative under a million deadlines. She lives in Manhattan with her husband and daughter. Here's how she gets it done.
On her morning routine:
I don't use an alarm in the morning. We have the blinds set to rise automatically at 5:45 a.m., and I sit in meditation and collect myself while the sun rises. I've worked my way up to a 30-minute meditation. I'm naturally a very hyper person and my mind is always racing, so being still has taken practice and conditioning. I live in midtown Manhattan, and the view out the windows makes me pinch myself. It helps me get motivated on what it is I'm after that day.
I normally wake up looking very swollen and puffy — I call it "newborn face." I use ice-cold water to shock my face awake, and lots of serum moisturizer. I love aromatherapy. I shower in the morning with eucalyptus and lemongrass. Sometimes I go to the office, and sometimes I work from home — I'm doing a hybrid. But even when I'm at home, I try to follow the same routine of getting ready and doing some physical stretching. Then I spend time in my closet trying to figure out what my look is going to be for the day.
What I wear depends on my mood. Who do I want to become? How do I want to feel? I'm the girl that wears a kimono and puts on lipstick to drop the kids at school. A hat will make me happy. I'll do sweatpants and a button-down shirt, and sometimes I'll put on a heel with my sweatpants so I won't get out of practice.
When I started going back into the Puma office, it was so fun — like going back to school. I'd put on something colorful or shiny, like sequins. I'd throw on an evening gown with sneakers. It was all an energy thing. I constantly look to reinvent myself at every moment. My biggest fear is being stuck. I don't want a uniform or a "look" that defines me.
On meal planning:
I do intermittent fasting, so I don't eat after 7 p.m. Sometimes that means I need to do food prep in the morning, if I won't have time later in the day. So I'll make my dinner before I start my calls. And I don't eat until noon. I'm a plant-based eater, so I'll do a tofu scramble with salad or something brunchy.
I've been a plant-based eater for about five years now. I went cold turkey. The decision was based on health. My mom had Alzheimer's, and I wanted to get ahead of it. I don't want to sit around and wait for diseases to afflict me. I noticed an immediate difference. When I eliminated dairy, my acne got better. And when I started taking away other things, like meat, my digestion improved. My body just started to perform and operate in a way that was very telling. I knew that I just needed to listen.
On finding inspiration during COVID lockdown:
Before all this, I didn't even realize that it was a luxury to go to a museum, to people-watch and go to vintage shops and consignment stores and look for treasures. Trying to be creative when I was stuck at home was hard for me. At first I was like, "Oh, I don't know if I can do this." It had me out of sorts. But I still had deadlines. I still had to deliver. So I had to approach the process differently. I started to use my own personal archive, and refer back to visuals I'd explored and studied before. I had to use my imagination, too. And I was all over the internet looking at images. I dove into the Puma's digital archive, and I was going to online vintage shops. eBay was a great source. But none of it was ideal. Doing fittings on Zoom was very time-consuming.
On balancing creativity and deadlines:
We're always being driven by other people saying, "This is the deadline. I need, I need, I need." And you have to say, "This is what I need." I do blackouts on my calendar. My team knows that I'm not available when they see my blackouts. I never want to be in a place where the work makes me feel like I'm drowning. I don't need to prove to myself or the consumer that I can do more at this moment.
I'm very intimate with my creativity. I need to establish my own point of view first, before I contribute to a group. I prefer to do my due diligence, to understand the task at hand by myself. And I think that conditioning comes from working on very short deadlines in the music industry, where I'd have only a week or two to conceptualize and build out a music video or an album or a commercial project. So I learned to get in and really buckle down on my own, like studying for a final.
I'm super old-school. I still use notebooks. I like to write stuff down. I still get stuff out of magazines, too. I like to surround myself with tactile things, whether it's books or fabrics or vintage glasses or jewelry — things I can touch give me ideas. I designed a costume for Missy Elliott not too long ago for a Pepsi commercial, and I wanted the garment to look like bubbles, like she was fizzing like soda. And so I was hunting for buttons and grommets that looked like soda-pop bubbles. And I got all these shiny black round bubbles in different shapes, and I created this cool suit for her that felt futuristic. In my design space, I have a board where I'm putting up images and swatches and sketches, and I need to physically see that. But then I also do digital. I have tons of digital boards. It's easier to share. The physical thing is for me, and then the digital version is to communicate it to everyone else that can't be in the same room.
On her style philosophy:
To me, fashion is to style what lyrics are to music. Style is the actual symphony. So I'm really inspired by how different people interpret fashion. When I was designing the first women's basketball collection for Puma, I kept thinking, How do I want women to play with the idea of sportswear that's bold and not so traditional? I wanted to create something that was regal but still functional.
When it comes to designing costumes for my clients, I think of it as theater. I come from a theater background, so I understand character development. I understand the psychology of fourth walls, and separating personal personas from artistic personas in order to preserve oneself, and helping artists navigate those spaces.
On spending time with family:
I text my son almost every morning. I do FaceTime dates with my sisters. The pandemic has made check-ins a lot more important. Like, "How's your mental health? How'd you sleep last night? How was your day, you feel like it was productive? Do you want to go for a walk?" Sometimes we go for walks even if we can't physically be together, and just talk while we're walking. And we love documentaries. We'll sit down and all watch a doc together and do a group text about it.
On building a long career in fashion:
I've had this career for almost 30 years now, and it's natural to have moments when I'm like, Okay, have I been put into a box? Or I worry that people think, "Oh, well, she's really known for this," and feel like I need to prove that I'm more than that. I don't want to be stuck in that place where people see me as only one thing. Like, "Oh, she's a stylist." I'm like, "No, but I'm also a costume designer, I'm someone's mother, I'm a content creator, I have influence."
As a creative, you put something out there and you look for other people to validate it. And I had to reexamine that concept. I didn't like that feeling, because it was a distraction. It's a joy killer. And I realized that only I could get myself out of that place. So I did the work to take new opportunities.
People always say, "Oh, what do you wish you could tell your younger self today?" And I'm like, "No, what is my young self still telling me today?" My childlike spirit is what I'm driven by — I want to constantly be curious and fearless. I want to be able to walk into any room with confidence, and in order to do that, you have to trust and respect yourself.
On winding down:
At the end of the day, I put on music while I cook. My daughter is a chef, so we have fun in the kitchen. She's in college now, and she's the last one left in the house — my son now lives in another state. We play old-school games, like Uno. We do a sit-down dinner together at least once a week. I'm a bath person. I take my bath at night, with lavender oil. And I'm very disciplined about sleep. A few years ago, I invested in a decent mattress and focused on getting my eight hours in.