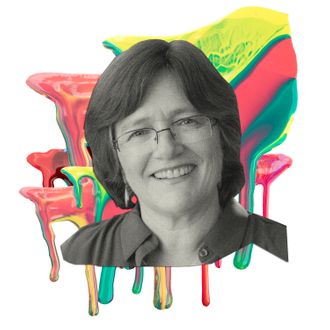 Photo-Illustration: The Cut; Photo: Helen Berger
Dr. Lucy Jones is the go-to person when things literally go bump in the (day or) night. A renowned seismologist with decades of experience working for the U.S. Geological Survey, Jones's understanding of earthquakes and her ability to translate that to the rest of us has made her a celebrity to those living in quake-prone regions in the Western U.S. She's been called "the Beyoncé of earthquakes," been an answer on Jeopardy!, and schooled Conan O'Brien on surviving the "big one." And when an earthquake happens in her native Southern California, her handle is likely to light up your feed as she fields questions and offers context to her 100,000-plus Twitter followers. 
Being the "Meryl Streep of government service" (yup, she's been called that, too) was never Jones's plan, but she's recognized over the years that establishing better risk communication is as vital as studying the risk itself. She's spearheaded initiatives to develop seismic safety ordinances and created the Great ShakeOut drill, persuading millions to practice how to drop, cover, and hold on — the recommended safety steps if an earthquake does occur. 
Since retiring from her government job in 2016, Jones has published a book, launched a podcast, and started The Dr. Lucy Jones Center for Science and Society, all while making time to compose her own science-inspired music. Here's how she gets it done. 
On her morning routine: 
I begin every morning with 40 minutes or so of exercise. I have discovered I need to do exercise first thing before I truly wake up enough to remember how much I hate it. I then walk the few steps down the hall to my study/music room and sit down at the computer. I clean up the emails I received overnight and then dig into whatever I am working on.
On a typical work day:
I have two projects taking up much of my time right now. The first is helping the Caltech Seismological Laboratory develop a community-engagement program. I am working with graduate students to develop a course to be given to high-school students, introducing them to seismology.
The second project is called Tempo: Music for Climate Action. It is a multicultural, interdisciplinary project to use the power of music to change the emotional climate around climate change. I am bringing together climate scientists who know what needs to be done to address the climate crisis and social scientists who understand the emotional impediments to facing up to the problem with musicians who understand how to invoke emotion. The goal is to create a community of people dedicated to addressing the climate problem and create music that will help inspire more people to do what needs to be done. We have begun with a bicultural program between the United States and Japan, but eventually, we hope to become a global community.
On starting a podcast during the pandemic:
I had been doing quite a bit of public speaking, but that mostly disappeared [with COVID]. My colleague, John Bwarie, suggested starting the podcast because, with the fear of the pandemic, people needed science more than ever. Everyone living through it needed to undertake their own risk evaluation. Risk assessment is much of what I did for the last half of my career, and I realized people needed to understand how to look at the problem. That was something I could help with.
On embracing career changes: 
I think a key to my success has been the ability to pivot when necessary to take advantage of serendipity. I never imagined having such a public facing role. When I was in graduate school at the Massachusetts Institute of Technology I learned that I needed to say I was studying geophysics, because most people on the East Coast didn't know what seismology was. I entered this field solely thinking about it as scientific research. I loved physics but didn't want a job designing bombs. I wanted to learn how to predict earthquakes and save the world, or at least the part of it unfortunate enough to live near the San Andreas Fault.
I chose to work for the USGS because I wanted the science to be used for the public good. When I recognized the gap between science and society, I left the government to create my nonprofit, and write my book, The Big Ones.
I now realize what is coming from climate change is so bad that I cannot in good conscience promote seismic safety without climate resilience. I have again pivoted and added a new focus to my nonprofit work, using what I have learned about how people respond to scientific information about risk to help climate scientists develop new approaches to communication.
On feeling like she "made it" professionally:
Like many scientists, I have struggled with self-confidence. Because the easiest person to fool is yourself, the scientific peer-review system asks your colleagues to read and attack your papers. It is necessary to be sure you are right, but it is also very hard on your self-esteem.
My biggest feeling of success came during my last ten years at the USGS leading what became known as the SAFRR Project (Science Application for Risk Reduction). It was an explicit decision to walk away from science competition and focus on the societal interface. It turned out the need was huge — and it was exciting research. Creating the first Great ShakeOut and getting over 5 million people — one-quarter of the population of Southern California — to participate that first year was exciting and fulfilling.
But the high point was 2015 when I worked with the mayor of Los Angeles to develop seismic-safety policies based on our science. We created the largest improvement to seismic safety ever in California. All of the ordinances were passed unanimously by the City Council, and I was awarded the Service to America Medal at a gala in Washington, D.C. Those outside achievements made it easier to internalize the success.
On being the "Beyoncé of earthquakes" and her other nicknames:
It makes me smile, and it's somewhat embarrassing. But if it helps people listen more so they can take action to build their resilience to the inevitable earthquake, I'll take it. The only one I don't like is "earthquake lady." The male scientists were called seismologists and the female scientists were called the earthquake ladies. It was a way to say we were something less than expert.
On ambition:
I entered science because of the joy I find in research. There is nothing like the feeling you get when you recognize some fundamental physical reality and know that you are the first person to know this. I have been ambitious to make those discoveries.
The change with time has been the shift in focus from just knowledge to knowledge that is used to make life better for people. I am completing my career by establishing a nonprofit to foster the understanding and use of science by the larger society. I try to inspire early career scientists to collaborate more with policy and decision makers to create a safer society.
On "having it all":
Believing you can have it all is a sure path to disappointment. Career demands take you away from your family, and your family takes you away from your career. Making the decision to work part-time for ten years when one of our children was struggling was the best decision I ever made — I was able to give the best of what I had to the parts of both family and career that needed it.
On using social media for science communication:
The only social media I use is Twitter, which I joined after an earthquake in 2014. People turn to social media to confirm and help them process what they experience or think they did. Quakebots at Caltech and other places share earthquake data; I add how to think about the information — what does it mean for you?
Sometimes people get mad if I don't tweet right away, but some earthquakes aren't worth the 280 characters.
On winding down:
Music is my most important safety valve. I play the viola da gamba, an early string instrument somewhat like a cross between a cello and a guitar. I play in Los Angeles Baroque, as well as small ensembles. Nothing settles my soul like a couple of hours of Telemann or Bach.
I take a long walk every night with my husband around our neighborhood. Sometimes we will watch TV, but when I want to really relax my brain, I read science fiction as I've done since my father introduced me to Isaac Asimov when I was 14. He said I was a 14-year-old precocious girl, like the heroine in Second Foundation. I wasn't sure what "precocious" meant, so I read the book to see what he was saying about me.
This interview has been edited and condensed for length and clarity.