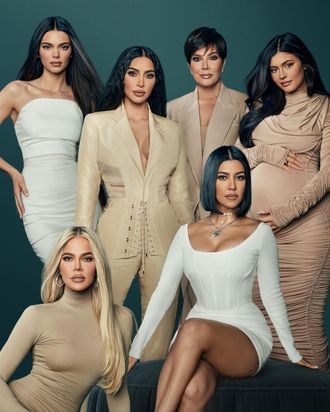 Just nine months after bringing their 14-year reality-TV empire to a close on E!, the Kardashians are … back. This week, the family will emerge from their micro-retirement after being paid a reported "massive 9-figure salary" to star in Hulu's The Kardashians, a repackaged version of their old show. Will making the switch to streaming be enough to jump-start this great American franchise in decline? Well.
The first teaser trailer (which has since been made private for some reason) for the Hulu show, released last December, promised fans that this time around "all the walls will be shattered" — a declaration that sounded groundbreaking at first, but upon second thought actually means next to nothing. And the first pieces of footage from the show released last month prove to be more of the same. Despite promises that this "updated" series will show a "more intimate" side of the Kardashians as they "evolve as a family," upon review, we see the same group of billionaires playing out the same tabloid headlines on a serious delay using the same elliptical editing techniques and the same cliffhangers pieced together out of facial expressions and eye contact. The Kardashians simply took a six-month break before they missed "being paid to be with one another" too much and started filming again. Nothing groundbreaking about it.
Kar-Jenner matriarch Kris Jenner has regularly referred to Keeping Up With the Kardashians as their family's "foundation" and the "mothership" they beamed down from, so it makes sense that these ladies would feel a bit rudderless after suddenly losing the self-propagandizing branch of their regime. When KUWTK debuted on E! in 2007, the invention of Instagram was still three years away. The most famous person on the show was, of course, Kim Kardashian, whom your average American could still probably only identify as "that girl with the sex tape." Today, they're the most highly documented women in the world, collectively wielding almost 1.3 billion followers on Instagram, or about 16 percent of the global population. And yet, despite all that exponential growth of their personal and professional brands, not to mention the fact that they can reach more people directly on social media than any single streaming platform, the family has failed to evolve with their audience, the times, and their own megastardom.
This commitment to the formula that made them famous seems particularly nonsensical when you consider that the original show's ratings had also been in a steady decline since 2015. According to the New York Daily News, less than 1 million people tuned in for KUWTK's season-18 finale on April 30, 2020, the last episode to air before they announced the show would be ending. Considering that season was just six episodes long, down from a series high of 21, and had been moved from its traditional Sunday-night slot to Thursdays, the news did not exactly come as a surprise.
Part of that decline is due to the Kardashians' method of onscreen plot construction, which had started falling apart long before they formally decided to call it quits. The family has always used KUWTK as a conduit through which to mediate their own scandals and brand image. They first proved the utility of the show as media spinmeister with Kim's sex tape, a controversy she breezily dismissed in the pilot episode as just something she did because she was "horny and felt like it," exhibiting the very shamelessness in the face of public outrage that would come to define her career.
They then perfected their PR strategy with the rollout of Kourtney's surprise first pregnancy in 2009, confirming the news just days before the premiere of her spinoff show, Kourtney & Khloé Take Miami. After teasing the father's identity for months, they revealed it to be her ex-boyfriend Scott Disick during the season finale to an audience of 2.6 million. The news was also sold in a package deal to Life & Style magazine for $300,000, per The Hollywood Reporter, giving it exclusive rights to the pregnancy announcement, sex of the baby, birth announcement, first baby photos, and body-after-baby reveal.
The family then perhaps played things a little too fast and loose with Kim's extremely short-lived second marriage to Kris Humphries, as not only were E!'s cameras on hand to document every moment of the nuptials, but the Kardashians also found other ways to monetize the ceremony. According to The Hollywood Reporter, People magazine purchased the exclusive rights to the photos of the wedding for $1.5 million, after reportedly paying an additional $300,000 for pictures of the couple's engagement announcement earlier that year, and OK! magazine also paid $100,000 for exclusive rights to photos of the bridal shower. But even though their relationship would only last 72 days, the two-part wedding special brought in a whopping 10.5 million viewers on top of that almost $2 million in tabloid revenue.
Thanks to the repeated success of these types of well-orchestrated press cycles, the Kardashians' level of fame began to rise, and rapidly. Their notoriety moved beyond the confines of reality TV into product collaborations, fashion-magazine covers, personalized apps, video games, and even more high-profile relationships. This era also saw them formally launch their two youngest siblings, Kendall and Kylie, as the next generation of breakout stars with "no talent." But thanks to this heightened media scrutiny, the tabloid-to-TV-show pipeline their success was founded on quickly began to break down. Media coverage of their lives started to far outpace the show, beginning with Kim's relationship with Kanye West and hitting a fever pitch around the time of her 2016 Paris robbery. For the first time, instead of the family planting plotlines in the press that would ultimately find their conclusion onscreen to great ratings success, stories about the Kardashians were breaking online long before they'd get to weigh in on the situation for the cameras.
In the case of Kim's Paris robbery, the family began speaking to the media almost immediately, with Khloé going on Ellen the following week to address the "incredibly traumatic" ordeal her sister had just gone through. But even with a steady stream of source quotes meted out to the tabloids between the actual robbery and the KUWTK special on it that eventually aired six months later, it wasn't enough to keep their audience engaged. Despite a three-month social-media hiatus and refusing to discuss any specifics of the incident with the press, by the time Kim appeared onscreen revealing that she had begged for her life and "mentally prepared" herself to be "shot in the head," fans had already moved on to the next sensational news story. And their viewership reflected that, with only 1.58 million people tuning in for the episode, according to Forbes, little more than the 1.48 million who watched that season's premiere — the show's smallest premiere audience since 2008.
This is actually an issue that Kim does seem keen to address with their new Hulu show, telling Ellen DeGeneres in a September 2021 interview that The Kardashians would have a much quicker turnaround compared to KUWTK's six- to nine-month lag time, and that she hoped the first episode of their new program would air that fall. In a recent conversation with Variety, she called the original show's delayed timeline "like, the death of us." In another interview on Ellen, Khloé seconded her sister's assessment, claiming The Kardashians would debut as soon as January or February of 2022. Now, seven months after they first began filming the series, we'll see (or not) if the family finally figured out a way to stay one step ahead of the press (or not).
So far, a positive outcome seems dubious given that the trailer rehashes every story we've already seen play out online in recent months, from Kourtney and Travis Barker's gothic love affair and Kim and Pete Davidson's shock coupling, to Tristan Thompson's Groundhog Day–esque infidelities that this time resulted in him fathering a child with a woman who's not Khloé. But as with much in the world of Kardashian, what's most notable about this preview are those real-life plotlines that remain mysteriously absent — for example, Travis Scott's involvement in Astroworld, the Houston music festival that left ten audience members dead, or West's relentless social-media bullying of Davidson and many public manipulation tactics aimed at wooing back his ex-wife that border on outright harassment. These are events that perhaps feel too dark and legally fraught to rehash onscreen for their fans, and that even these PR mavens can't figure out how to spin to their own advantage.
So far, the only real substantial change seems to be how much the Kardashians will be making for allowing cameras to once again invade their Calabasas mansions. In 2017, the family signed their final deal with E!, renewing the series through 2020 for just under $100 million, per Variety. When announcing their reasons for ending the show, Kris claimed her children just wanted time away from the cameras. Yet, three months after they announced the end of KUWTK, Hulu confirmed the family had already signed on to "create new global content under a multiyear deal" for substantially more than their prior network was offering. Despite that multimillion-dollar pay bump, Khloé insists that the move has nothing to do with money. "It has to be a good fit, and Hulu was just the perfect fit for us. It can't just be for monetary gain," she told Variety, adding that, as trendsetters, cable was simply "not on brand" and they wanted to cord-cut "with someone that's tech forward so we're with the times."
By masking this money move under the guise of personal evolution and fast-forwarding through the finale-to-encore life cycle of a show, the Kardashians might actually be putting the final nail in the nostalgia-TV coffin. The family cultivated a lot of goodwill and fond retrospectives with the finale of their show last June, but by shooting again so quickly, their Hulu series comes off as just another cynical cash grab rather than an authentic reinvention. The public hadn't even been given a chance to know what it felt like not to see a Kardashian on their TV screens before the press cycle for their big return began. Watching this franchise's zombielike resurrection so shortly after we eulogized it leaves viewers with the indignant feeling of having discovered someone eavesdropping on their own funeral — a funeral that has only made the recently deceased even more outlandishly wealthy.
The Kardashians' media ubiquity, bottomless avarice, and ability to absolutely waterboard us with content on every platform are the very things that shot them to the highest heights of celebrity. And now that they've made it there, it also seems poised to take them right back down again.