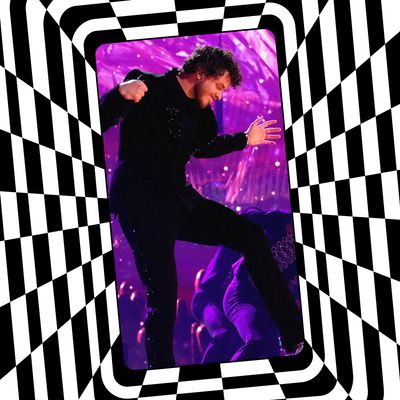 Jack Harlow, doing his little dancey-dance at the Grammys.
Photo-Illustration: by The Cut; Photos: Getty Images
I tried to stay indifferent to Jack Harlow. I tried to write him off as a dry-cleaned Post Malone. An Angus Cloud with more media training. Just another young man who, as Vulture put it, is famously white and extremely horny. Then, I saw him doing the choreography to "Industry Baby" with Lil Nas X at the Grammys, and I was indoctrinated into the Church of Harlow immediately.
Something about a rapper doing choreography makes me — how should I say this — forget my own name and most of the state capitals? I'm not talking about dancing like Drake's "Hotline Bling" move that aged him 15 years in five minutes. I'm talking about capital C Choreography — the kind typically reserved for boy bands and female artists. Like Cardi B giving Offset a whole lap dance. Like Megan Thee Stallion giving body while dancing to "Body." Like Doja Cat moving her hips in a way that, were I to try to replicate it, would make me throw out my back and somehow leave me concussed. Jack Harlow is entering his choreography era, and I, for one, am welcoming it with an open heart and mind.
Harlow has become impossible to avoid, especially on TikTok. There's him practicing his little dancey-dance. There's him eager to learn more choreo. There's him … doing this. Regardless of what side of the app you are on — Straight TikTok, Alt TikTok, Millennial TikTok, BookTok — at some point, Jack Harlow has crossed your For You page, flirting with you through the screen in a way that makes you go, "Oh my God, STOP, Jack. *blink blink*"
Harlow's sudden omnipresence is in part because he's promoting his forthcoming album, Come Home the Kids Miss You, which comes out on May 6. His most recent single, "First Class," has been among the most popular audio on TikTok even before the full song released. This will make sense to anyone who has listened to it even one time. The song samples Fergie's "Glamorous" and has the line, "Can't lie, I'm on Angus Cloud 9." This man knows exactly what he's doing.
Harlow also seems somewhat self-aware about the fact that he's a white person in a predominantly Black industry. It's a slippery slope from Jack Harlow to, say, Chet Hanks. That slope is made slipperier by the fact that, one could argue, Harlow is doing what Black artists have done forever but comes packaged in a way that music execs have historically deemed "more palatable" (i.e., whiter). However, Harlow seems somewhat cognizant of that, as he told Billboard earlier this year, "There's a certain responsibility that comes with being a white man in a Black genre."
It helps that Harlow's charm is undeniable. Last year, the mayor of Louisville, Kentucky, declared December 18 Jack Harlow Day. Harlow has Lil Nas X's seal of approval — an equally honorable distinction. It's not difficult to find old videos of Harlow walking down the halls of his high school and lip-syncing his own lyrics — something that would make me shrivel up in second-hand embarrassment for literally anyone else but, somehow, just makes him more endearing.
Perhaps nothing sums adoration for Harlow up better than this quote from his recent Rolling Stone profile: "I am poetic, but I want some ass." Don't we all, Jack. Don't we all.