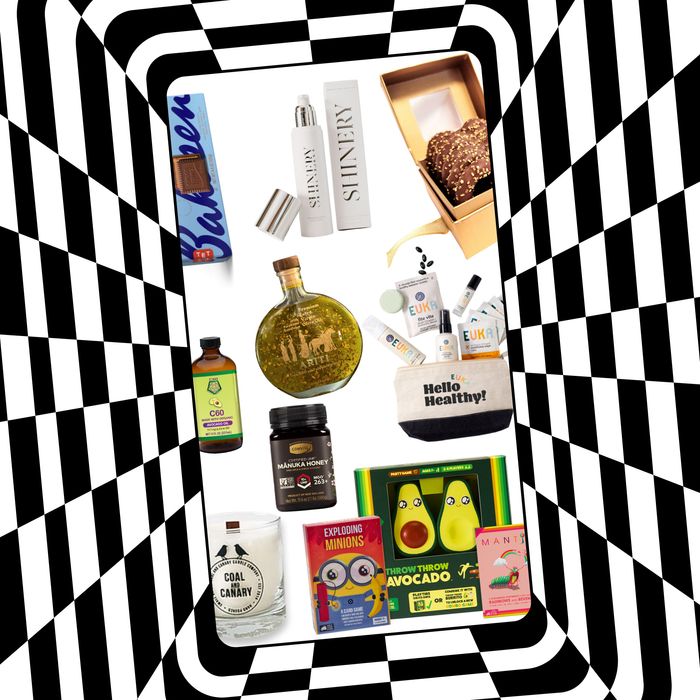 Photo-Illustration: The Cut; Photo: 3d PR & Marketing
We have all been so consumed by the Slap discourse, it seems we've forgotten what awards shows are really about: swag bags. The Oscars' swag bags are their own genre of extravagance, their own tier of unnecessary opulence. And all I want to do is peek inside like a child trying to see what her mother is cooking. No, no! These are for the guests.
This year's bag, named the "Everyone Wins" bag, was worth an estimated $137,000. For reference, my car cost $15,000. What could be in this bag that is the value of nearly ten 2014 Ford Focuses? A modest boat? Close! The 2022 Oscars swag bag included a three-night stay at a castle (with a complimentary butler), a small plot of land in Scotland along with the title of "Lord" or "Lady," a voucher for arm liposuction, and $25,000 worth of home renovations. And that is just the beginning.
There's $10,000 worth of "rejuvenation procedures" from a plastic surgeon. There's a $1,000 life-coaching session with a wellness expert. There's a $15,000 four-night stay for two at a luxury spa, a $95 chai-tea box, and over $1,000 worth of skin-care products. Haha, my stomach hurts!
However, what I love most about these bags is the less extravagant gifts sitting alongside their wealthy brethren. Like the game Throw Throw Avocado and some fancy nuts. Sure, there are high-end beauty products, but there's also a small inflatable orca from PETA that says "SeaWorld Blows." You know what goes great with your trip to a resort and spa that costs $1,500 per night? This hairbrush you can get at Ulta for $10. There are also two books in this year's bag — perfect for helping fill your empty shelves when Architectural Digest comes over. The combination of luxury gifts and extremely regular products feels like a Secret Santa with no dollar specifications. You could get gold-infused olive oil, or maybe you'll get a Minions card game. Just kidding, you get both!
Of course, you don't get a bag simply for attending the Oscars. You're not even guaranteed a bag if you're a nominee. This year's "Everyone Wins" bag was given to 28 guests: 25 nominees in the top acting and directing categories (Best Actor, Best Supporting Actress, etc.) and the three hosts. Will Smith got a bag. Chris Rock did not.
Who is to thank-slash-blame for this magical, mystical bag? A niche marketing company called Distinctive Assets. They've done the swag bags for the Oscars for the past 20 years and also do gift bags for other awards shows, like the upcoming Grammy Awards. (This year's Grammy swag bag, given to 150 A-list attendees, is worth a modest $20,000 and includes vegan running shoes and a virtual-reality performance by blues artist Robert Johnson.)
While the Academy used to sponsor the swag bags, Distinctive Assets' bags are not officially affiliated with the Oscars or the Academy. This was a point of contention between the Academy and Distinctive Assets, as the Academy didn't want to seem like it was endorsing free vibrators and liposuction. The two reached an agreement in 2016, and Distinctive Assets now makes it clear in their press release that the Academy of Motion Picture Arts and Sciences — the Academy's government name — does not "award, endorse, sponsor, or provide" the gift bags.
And yes, the bags are free. However, the value of the goodies counts as non-cash compensation and is, therefore, taxable income. In 2006, when the bags were still Academy-sponsored, the Academy reached a settlement with the IRS and had to pay back taxes on previous bags and issue 1099s to that year's recipients. While celebrities who accept the bag have to pay taxes on the physical goods — this year, there's about $5,000 in tangible products — they do not need to pay taxes on any of the travel vouchers, offers for cosmetic surgery, etc., unless they are redeemed. I suppose that is something we peasants can take pleasure in.
To save you a Google search, here are some of the things past Oscars bags have included:
If you're curious whether this means there were two weeks where a couple dozen A-listers were all in Tanzania, it seems many of the higher-end vouchers are never actually redeemed. In 2013, Jessica Chastain was reportedly the only recipient who cashed in on her $10,000 gift card for an interior-design consultation. And not everyone is a fan of the gifts, at least in theory. Actor Ed Norton previously told New York Magazine he thought the Über-expensive bags were "disgusting and shameful." This year, Ricky Gervais felt the need to tweet how the bags are worth more than most people's annual salary, for some reason? Gervais reportedly made $40 million from his two Netflix specials. He's also never been nominated for an Oscar, a requirement in order to be eligible for one of the bags anyway. So …
Regardless, it seems the majority of recipients gladly accept these ostentatious goodie bags. (Diane Keaton has reportedly sent "lovely notes" as a thank-you.) As of 2014, there had only been one person to ever refuse a bag: Sandra Oh.