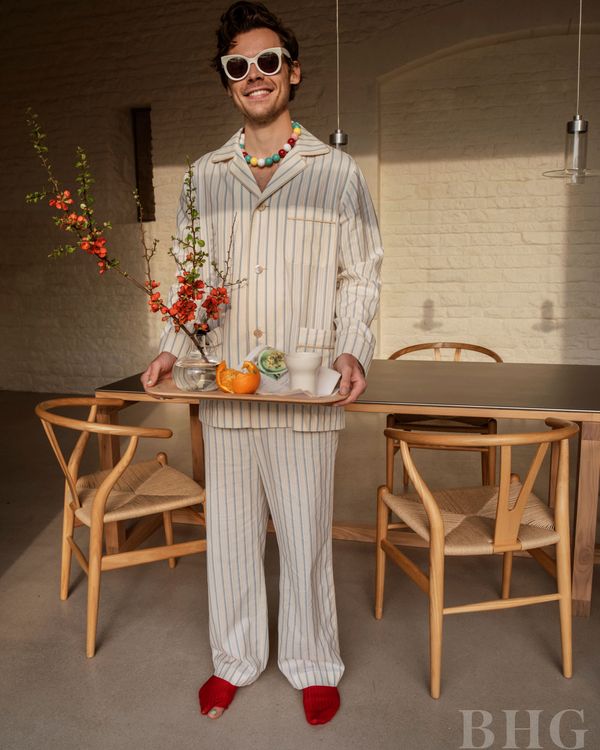 Photo: Tim Walker for Better Homes & Gardens
On Tuesday, Better Homes & Gardens released a profile of Harry Styles and many, many photos, including one featuring him wearing pajamas, holding a tray. If you are, like me, a Harry superfan who obsessively looked at every image, you will have noticed one important detail: his big toe peeping out of a hole in his sock.
You may be wondering a few things, like why a toe picture is important and why someone as wealthy as Styles would be wearing a sock with a hole in it. Sure, it's relatable. But upon reflection, the toe in question is important for a reason: His toe is painted in a nail-polish color from Pleasing, his beauty brand. The color, Sprouting, is from its latest micro-collection, "Shroom Bloom," released in March.
I haven't gotten my hands on a bottle of Harry Styles's nail polish yet, but only because the lines at his pop-up shops were notoriously long and I couldn't bring myself to wait. But now, I'm ready … all thanks to his big toe. In an era of "no free feet pics," the baring of Styles's big toe (and his big toe only) feels like the perfect way to advertise his beauty brand.
Styles and his beauty brand have been all the hype this past year. Aside from the shade we now know as Sprouting, the collection featured three other nail-polish colors — Tender Bud, Vine Ripe, the Whole Dewniverse — as well as limited-edition apparel and two new skin-care products.
Styles has had quite a year: his 2021 tour, launching Pleasing, headlining Coachella, the announcement of his new album, Harry's House. Which is why his toe is so brilliant. Way to kill two birds with one toe.
The June issue of Better Homes & Gardens is available for preorder now and on newsstands May 13.