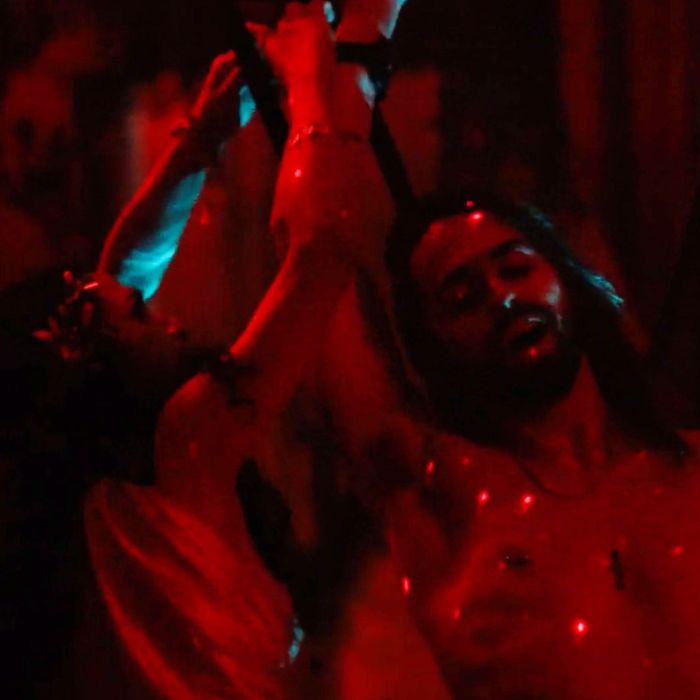 Crucify me, daddy.
Photo: Adam Bailey
Last week, I stumbled across a weirder-than-usual invite for a sex party called Eostre, which read, "Long before Easter became synonymous with the return of Christ, it was the festival of Eostre, a Germanic goddess of the dawn. A celebration for the return of the sun, the festival is noted for signs of birth. Bunnies, eggs and chickies are a common sign of this equinox celebration" — in other words, all things I'd never really associated with the idea of a sex party, which for me calls to mind dank basements, a decidedly mixed cast of too-handsy men, and a certain smell I'd rather not describe but which is often difficult to get out of your clothing. Eostre was being hosted by NSFW (that would be the New Society for Wellness), which advertises itself as a "private social club for the open and adventurous" and feels more fancy than sleazy. Tickets for nonmembers were $149 (Harper's Bazaar once called the NSFW the "SoulCycle of Sex"; millennials, as we are always told, prefer to spend their money on "experiences"). The night would involve, per the description, a couple of hours of mingling, a late-night performance, and, of course, the … climax(es).
The NSFW was founded in 2015 by the former fashion executive Daniel Saynt, a handsome 39-year-old who, when I compliment him, responds, "It's scientifically proven: The more sex you have, the younger you look. Up to seven years younger. It's a testament to my lifestyle." Saynt, who calls himself the NSFW's "chief conspirator," is not the only one practicing this bi-positive, poly-positive, kink-friendly — here's that word — lifestyle. He tells me the NSFW currently has more than 8,000 paying members and apparently accepts just 5 percent of applicants, evaluated (as when your child is applying for one of those elite private preschools) on 14 points of attractiveness. Saturday's party was also to celebrate the launch of the club's own coin, $LOVER, cashing into crypto like everyone else with ambitions to become "like WeWork but WeFuck." (Why didn't Adam Neumann think of that?) Its origins were smaller and more personal. "I came out as bisexual then realized there wasn't really spaces for bisexuals," he says. "I wanted a place where I could fuck my girlfriend and suck my boyfriend's cock at the same time." Everybody better be flexible!
The dress code for Saturday night was "your sexiest Easter outfit," so, in a nod to Gloria Steinem, I put on a skimpy dress, a pair of bunny ears, and, sensing the party might be less gay than I'm used to, called up my closest straight guy friend (okay, fine — sometimes we make out; like Saynt, I'm supportive of providing space for bisexuals) to join me on the hunt. After all, Eostre is all about rebirth.
10:26 p.m. | The NSFW sexquarters are located in a third-floor loft on Broadway, and when I walk in, I'm greeted by something they call a "nymph" — in this case, a doe-eyed, half-naked hot girl in a shiny white harness whose job for the evening is monitoring the festivities and giving newcomers the "consent spiel" at the door ("Don't be a creeper, which is pretty self-explainable," I hear her tell the dudes arriving behind me). I'll admit I've been to my fair share of sexy parties, but I'm certainly not in Bed-Stuy or at the Cock anymore in this seemingly well-sanitized hospitality loft, which consists of a series of four red-lit boudoirs, each pornier than the previous one. The first is the bunny slope for beginners, with plenty of comfortable (and furry) seating, a popcorn machine, and portraits of ass cheeks on the walls next to framed affirmational quotes such as "A slut is a person of any gender who has the courage to lead life according to the radical proposition that sex is nice and pleasure is good for you." In the next rooms, I discover a bar, a DJ, a shower, and finally, half a dozen king-size beds and other playtime home furnishings including a human-size cage and a vanity bedecked with Purell, "climax-control spray," condoms, tissues, and, for those arriving from dinner, Altoids. I pop one of the latter.
11:01 p.m. | While a clubby remix of Kate Bush's "Running Up That Hill" plays over the speakers (which makes me think of that time on Pose when the straight guy kissed the queer girl to this song), the guests start to arrive in costumes I suspect most of them purchased today. (A link on the event website to "Costume Inspiration & Ideas" took you to a Pinterest board featuring Jesus Christ, stock photos of Roman Halloween costumes, and several … Playboy Bunnies.) For the most part, everyone is a perfectly normal-attractive millennial — like the people you shuffle past at Trader Joe's or see on work Zooms. It is, at least for now, not quite as sexy, dangerous, or sexually thrilling as I guess I hoped it to be, having imagined something closer to Eyes Wide Shut than the the office bi-swingers support group. My straight boy snarks, "It's like Tumblr people meeting up in real life."
11:04 p.m. | Speaking of … a very hairy man in a gold mask introduces himself as Aaron and — I think feeling self-conscious about the bulge-bearing makeshift toga he's wearing — decides to tell me he missed his fraternity's toga party back in college because he was studying abroad. As he lets it all hang out for a few more minutes and takes in the room, his confidence grows. "I'm already pretty much primed. I'm giving people a taste," he brags, waving his sheet around to expose his chest and boxer briefs. This is his fourth NSFW party. He started coming here after breaking up with his inhibited pandemic girlfriend and hearing about similar parties from his "buddy in Berlin." He's kind of a nerd about the whole thing, talking clinically and cheesily about "play parties," his "limited preferences" ("I am attracted to women," he reminds me several times), and "exploring to the greatest extent" possible given those preferential limitations. Everything for him is about chasing this elusive sexual "experience." He's trying to up his body count while he's single. "Until I'm locked down again, I want to experience. I left a friend's birthday party to come here. If I didn't, I'd regret not coming to this bacchanalia when I had the chance," he says. Does he think he'll get laid tonight? "I wouldn't say that is — especially as a guy coming here — an inevitability," he responds before reminding me again, "They also have nights for homosexual."
11:10 p.m. | So far, it's still a bunch of amateurs, made especially clear when a jumpy 30-something woman plops down on the couch and squeals, "I'm a little virgin over here! She made me come." She's pointing to her friend, who's wearing a much sexier bunny outfit with long white gloves. The new girls start nervously flirting up Aaron as if he's an icebreaker for their night out. At least it distracts him from further droning on to me about his present singledom ("I'm not one of those guys — I've met guys like this — who want to be single forever. In history, that usually meant you're gay, historically …")
11:31 p.m. | Another balding, barrel-chested white guy in a toga arrives, and this one's name is also Aaron. He's gay, though, or actually "gay but pretty bi, someone who's open to all possibilities," meaning sometimes he hits on guys here and they say, "Dude, sorry, but my wife would like to fuck you," so he obliges. All weekend, he's been hitting the gay sex parties at Phoenix, Pighaus, and the Cock (where he's proud to say he fucked a go-go boy). He comes to NSFW when he's not in the mood to do the whole anonymous, dark-room, gay-orgy sex thing. Here, he's looking for a polite meet-and-greet ménage à trois. "You actually have to interact with people," he says. "Instead of grunting. I mean, don't get me wrong, I love grunting. Last night, I grunted a lot. I'll be straight tonight because it's the only chance I get. The gays are easy." Speak for yourself.
11:59 p.m. | When Gay Aaron asks me, "Do you get to participate, or do you only get to observe?," I almost forget my straight boy. Then I realize he's talking about yet another icebreaker: an adult-size, foot-long Jenga set on the coffee table that apparently features naughty commandments on every block. We recruit the virgin, the bunny, straight Aaron, and some other newbies to join us. I did not have "board games" on my sex-party Bingo card for tonight.
12:01 a.m. | Okay, sure. Dirty Jenga is kind of fun, even though every time someone pulls a command involving someone else, they feel obligated to go through this whole awkward rehearsed-consent thing. The bunny pulls a block that requires her to fake an orgasm, and she completes the task like a theater major. Straight Aaron eggs her on, "And the Academy Award goes to …" In turn, the virgin slaps Aaron, while he jokes, "Do you wanna go full Will Smith on me?" When it's my turn, I pull "Ask someone to spit in your mouth," so I obviously choose my straight boy. Thank God, he tastes like Altoids. Gay Aaron pulls ones that instructs "Get cock kissies," but when no one volunteers for duty, he starts bock-ing like a chicken and pursing his lips. To spare him the embarrassment, I give in. Less minty.
12:05 a.m. | A new player pulls the question "What's your most shameful fantasy?," to which they pose to the others, "Why should a fantasy be shameful?" I check to see if the next room is remotely nuder. All I find is another group playing a card game. And not even one that involves stripping.
12:33 a.m. | Finally, while exploring the back rooms together, my straight boy and I spot a blowjob (nice enthusiasm, poor form) and a few other worked-up straightish couples sheepishly petting each other (over their clothes) while lying on the beds. All we do is smoke a cigarette.
12:57 a.m. | I end up talking to the nymph at the door, who tells me she's here because "I decided that I wanted to live my best slutty life, and this seemed like a good place to start." Outside NSFW, she's a full-time sex worker, mostly "fetish work in midtown and dominatrix stuff downtown." Does the service actually correspond to the neighborhood, I ask? "Honey. There are some fucking feet freaks in midtown. These business guys? These finance bros? They are smoking crack and sucking on toes. It has something to do with having money and having access. You want more and more and more, and that turns into harder drugs and weirder sex stuff. But I'm not complaining. They pay my bills."
12:58 a.m. | It's "showtime," and everyone moves into the bedroom area for the performance. We take our seats at the end of what is an unexpectedly comfortable (dare I say Tempurpedic?) mattress, and what follows is an R-rated, exceptionally interpretive song and dance to FKA Twigs's "mary magdalene" ("I do it like Mary Magdalene / I want you to say it / Come just a little bit closer"), featuring a convincing Jesus Christ and two big-boobed dancing heretics. They wash each other's feet, sprinkle "holy water" (I hope) on the audience, and then … crucify Jesus on a medieval-looking sex contraption, but not before spanking his bare bottom. It's way better than The Passion of the Christ!
1:30 a.m. | Well, all of that Jenga and showy sacrilege really turns these people on. Several of the beds fill with cuddle puddles of three to five. My friend and I just sit and watch — squinting at the little wads of people and catching sight of a passionate fingering session or, occasionally, some very loud cowgirl. I ask some of the other voyeurs what their excuse is for not joining in. The bunny tells me, "I got fucked three times this week. My vagina needs a rest. I'm good on sex," though I don't really believe her. A plump five-foot-tall girl who works in tech blames the holy holidays. Her motto for the night is, "Expect nothing. Welcome maybe everything." A regular tells me, "It's always an … interesting dynamic when it's this thin of a crowd."
1:40 a.m. | The music gets louder and clubbier, maybe because there's actually now a fair amount of slapping and porn-star-style moaning. My straight boy and I agree we're not not turned on, still sitting chastely on the end of one of the beds. Thankfully, it smells only of weed — NSFW is a "cannabis-friendly" space — and a little high myself, the whole scene starts to feel like being trapped in a mildly entertaining porn flick. I'm brought back to life when I place my hand in something wet.
1:49 a.m. | I accidentally make eye contact with a stubbly man with heavy, glittered eye shadow on the opposite end of a blowjob. When he finishes, he throws me a thumbs-up. Later, when I ask him about the lucky lady (he's … above average), he says, "We've been friends for six years, sleeping together for four years, and dating for one year." Just another couple who came here (and paid) to give each other public head.
1:52 a.m. | OnlyFans "Daddy" Remy Duran arrives and tells me he's here because he didn't want to go out tonight. This, for him, is a casual place to spend a night in apparently. But instead of joining, he seems to get stuck babysitting the virgin, who, in an effort to get outside her comfort zone, has taken her boobs out. "You're triggering my inner Catholic school girl," I overhear her tell him, giggling.
1:57 a.m. | By far the best-looking person here is a woman who's been pacing the club fully clothed in a silver, shimmering wrap dress. She's a Taiwanese schoolteacher who came with her American software-engineer boyfriend. They met last year in Taiwan because he moved there during the pandemic to party under the impression that "there was no COVID in Taiwan." Now they live in New York and play at NSFW, which they refer to as a "safe space" for "free-loving, hippie-dippie, Burner-y" eclectics. The girlfriend describes the crowd tonight as "wholesome," which I don't interpret as a compliment. These two are pros, practitioners of "the lifestyle." "I didn't think much of the lifestyle before," the girlfriend says, "After I came here to see it for myself, I was like, Ohhhhhh."
2:02 a.m. | My straight boy gets led away by a wired-up girl in very few clothes, so I try to distract myself by talking to a bottle-blonde burlesque performer. She quietly tells me just turned 30 (well, by "just," she means November), and even though all of her friends are moving to Astoria and Jersey and having babies all of a sudden, she and her partner have been to "most of the sex parties in the city." This is her favorite. "It's a more … curated crowd. That's a big deal for me because I'm … picky. And people actually have sex here," she says. Those people clearly include her; she gently requests her boyfriend's hand, leads him to the middle of the loft, and bends over a couch. Now she's the loudest person here.
2:27 a.m. | Straight boy returns, muttering, "Nothing really happened."
3:05 a.m. | I make a half-hearted pass at Gay Aaron then decide it's probably more fun to keep drinking and watching instead. At the bar, another bunny tells me, "Tonight's a lot whiter than I thought it would be." Nevertheless, it's not as bad as the time she ran into her brother here. "I was semi-conscious, and something inside me was like, Put on your clothes and go investigate. I put on my clothes, and the first person I made eye contact with was my brother. I was like, 'What the fuck are you doing?' It was mortifying." No, you perverts, there is nothing else to that story.
3:44 a.m. | Eventually, the lights come on and the speakers switch abruptly to Frank Sinatra's "My Way." On the way to the door, the virgin and I spot a really huge schlong. "I like it. I'm here for it," she says schoolgirlishly. But the night is over. Don't even get me started on what would've happened tonight if I truly had it my way.