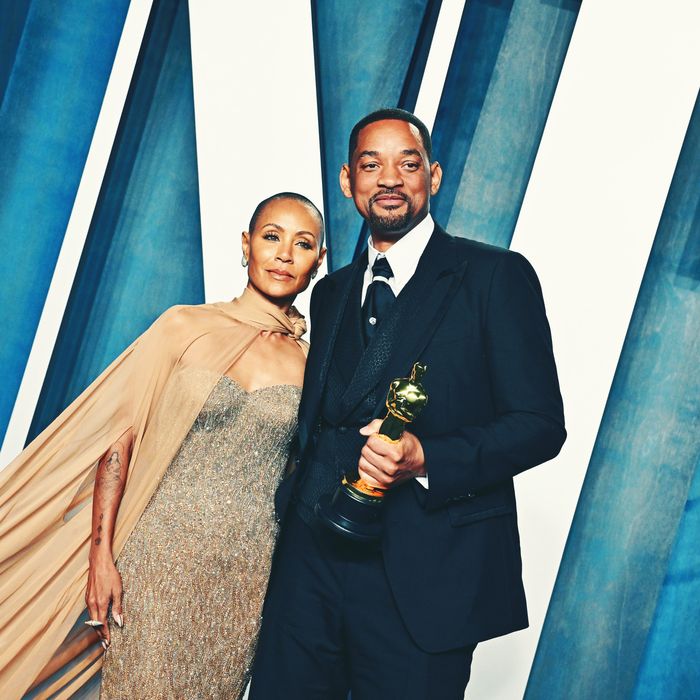 Photo: Axelle/Bauer-Griffin/FilmMagic
It's been 24 days since Will Smith took home the Oscar for Best Actor … and slapped Chris Rock on live television. Since then, the actor has issued a public apology, resigned from the Academy, and refrained from any more public appearances or statements. Meanwhile, his family has been similarly quiet on the slap front, with Jada Pinkett Smith posting a simple statement about "healing" a few days after the Oscars. But with Jada's family talk show, Red Table Talk, back for a new season, it was pretty much assumed that Jada and Will would address the incident sitting around the titular red table.
Sadly, the season-five premiere of Red Table Talk came and went without any direct mention of the slap. But the episode did allude to it. "Considering all that has happened in the last few weeks, the Smith family has been focusing on deep healing," read a title card that appeared at the top of the episode. "Some of the discoveries around our healing will be shared at the table when the time calls. Until then … the table will continue offering itself to powerful, inspiring, and healing testimonies like that of our incredibly impressive first guest." The message was attributed solely to Jada, which is notable considering she co-hosts the show with her daughter, Willow Smith, and her mother, Adrienne Banfield-Norris.
So, no, Red Table Talk is not going to tackle the slap just yet. But it might "when the time calls." It's not all that surprising that Pinkett Smith would choose not to open the episode with a talk about the Oscars. The show is pretaped, and the Academy only just determined how to deal with Smith's actions. (He was banned from the Oscars for ten years.) It makes sense that Jada and Will would want to wait to address the scandal until after things had been settled with all parties involved. But now that the Academy has issued its verdict and Rock has addressed the incident on his stand-up tour, it feels like Will and Jada are the only people who haven't commented. To quote the very wise Daniel Radcliffe, I am "dramatically bored" of the slap discourse — the only people I want to hear talk about it are the Smiths.
It's time for Jada to once again take herself — and her husband — to the red table.