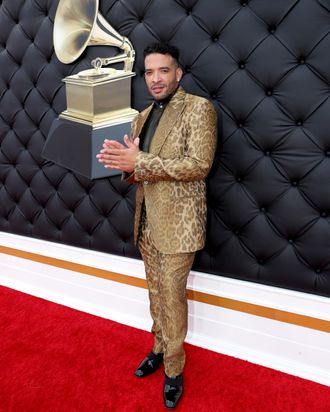 Photo: Getty Images for The Recording Academy
Do you recognize this man? He was recently involved in a chaotic royal hoax after his media outlet, Hollywood Unlocked, mistakenly announced that Queen Elizabeth had died days after testing positive for COVID-19. Jason Lee spent the next week insisting that the queen was indeed dead, even after the palace announced her recovery, before finally backing down with a lengthy explanation as to why he'd been so convinced of her passing.
Anyway, I never expected to think about this cursed incident again, so you can imagine my shock when, lo and behold, his face popped up on the red carpet of tonight's Grammy Awards. Here he is, twisting his face into a little smolder next to Tiffany Haddish, who is apparently a friend of his:
Why? Must I prepare myself for more sightings of this man's face? It does seem like Lee has a habit of popping up at various gatherings of famous people (here he is at the 2021 Savage x Fenty show in more leopard print), and given his noted friendship with Ye (he was recently hired as Yeezy's head of media and partnerships), it feels safe to assume he has some big music-industry connections. So if you hear any questionable rumors tonight, you'll know where they came from.