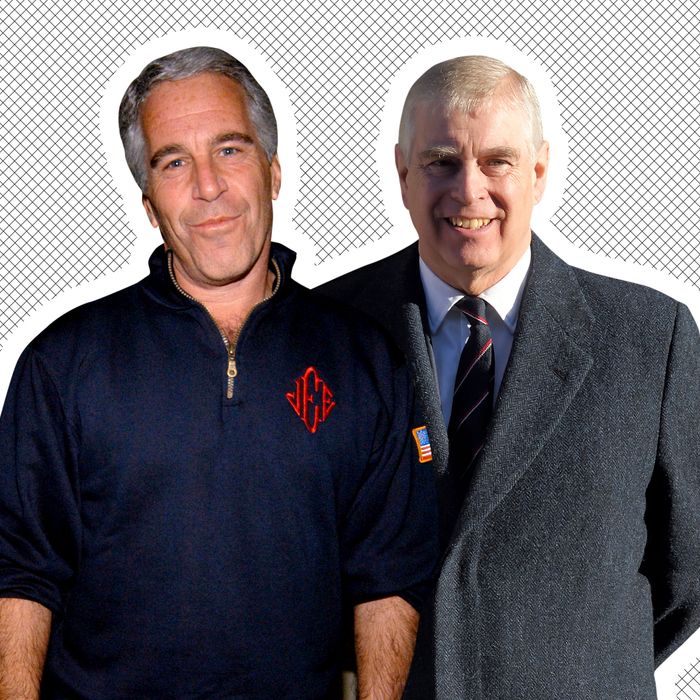 Jeffrey Epstein and Prince Andrew.
Photo-Illustration: The Cut. Photos: Neil Rasmus/Patrick McMullan; Karwai Tang/WireImage
Attempting to untangle himself from the legacy of former friend and late sex offender Jeffrey Epstein, Prince Andrew has placed a utilitarian framework on the relationship: It was "convenient," he once told the BBC, if also "unbecoming." Dubious, considering the frequency with which they hung out over ten years, but according to journalist Tina Brown, Epstein might have conceived of his princely connection in much the same way.
"Privately, Epstein told people that Andrew was an idiot, but — to him — a useful one," Brown writes in her forthcoming book, The Palace Papers, an excerpt of which was published in the Telegraph on Monday. "A senior royal, even if tainted, is always a potent magnet abroad."
Brown's chapter paints a scathing portrait of the Duke of York, alleging that "years of enjoying unearned obeisance to his royal position allowed Andrew to bang on with a combination of overweening self-confidence and unchallenged ignorance." During his time as trade ambassador, he was perpetually broke and entitled and easily duped, she suggests, which might have made him an ideal mark for Epstein. According to Brown, Epstein flew Andrew all over the place in his private jets because powerful people in "obscure foreign markets … were obliged to receive him" and Epstein could engineer new business partnerships under the guise of being the duke's financial adviser. Brown says convicted sex trafficker Ghislaine Maxwell brought Andrew into the fold, her "biggest social catch to present to Epstein. He was easy to entertain and satiate."
For his part, "Epstein made Andrew feel he had joined the big time," Brown writes, "the deals, the girls, the plane, the glittering New York world, where he wasn't seen as a full-grown man still dependent on his mother's Privy Purse strings or on the harsh pecking order of the Palace." Brown also claims that "the Duke was always as oversexed as a boob-ogling adolescent," her sources reporting that when he visited ambassador Walter Annenberg at his Palm Springs estate, Andrew was "holed up in his bedroom for two days, apparently watching porn on cable TV." A wholly unflattering image of the disgraced prince, but weirdly his perspective on the friendship seems to line up with Epstein's in the end: useful but embarrassing. It's just one biographer's assessment, but all the same … ouch.