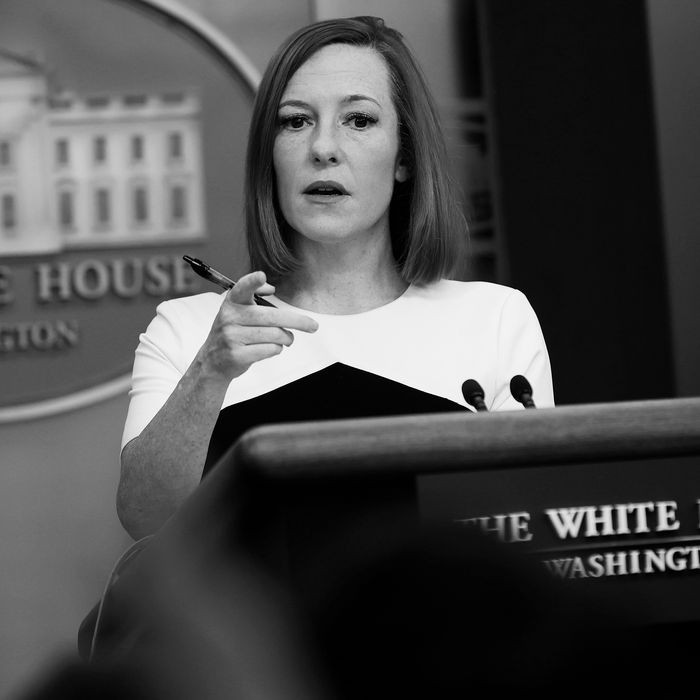 Jen Psaki
Photo: Chip Somodevilla/Getty Images
The White House–to–TV-pundit pipeline appears to be in good working order with yet another senior official reportedly leaving her position to become a talking head on MSNBC. This time around, it's press secretary Jen Psaki, according to CNN's two unnamed sources. Psaki hasn't actually confirmed the news herself, while a White House spokesperson merely said, "Jen is here and working hard every day on behalf of the president to get you the answers to the questions that you have, and that's where her focus is." MSNBC declined to comment.
Axios, which first published the rumor, says that "Psaki is in exclusive talks with MSNBC to join the network after she leaves the White House around May," which sounds less concrete than CNN's version. Still, Axios says that Psaki has informed certain high-level staffers, if not the White House press team, which (it stands to reason) may be finding out in real time. According to that report, the new opportunity is an MSNBC show on Peacock, NBC's streaming service. Again, that's not confirmed, though CNN notes that Psaki is currently expected to depart on April 30, after the White House Correspondents' Dinner.
As mentioned, Psaki would be very far from the first White House comms person to pivot to news hosting: Former adviser to and spokesperson for Vice-President Kamala Harris, Symone Sanders, signed up with MSNBC in January. Trump-era press secretaries Kayleigh McEnany and Sean Spicer went on to secure TV gigs, McEnany on Fox News and Spicer on Dancing With the Stars. (He also has a Newsmax show called Spicer & Co.) MSNBC's Nicolle Wallace used to work in the George W. Bush administration, and you may remember soon-to-be CBS commentator Mick Mulvaney as the interim chief-of-staff who insisted the media exaggerated its early coverage of the coronavirus in a bid to "bring down" Trump. Welcome to the media, sir.
For her part, Psaki — who has been press secretary since President Biden took office in January of last year — had previously been a commentator on CNN as well as deputy communications director for the Obama administration and a spokesperson for the State Department. Speculation about the move has reportedly percolated for weeks.