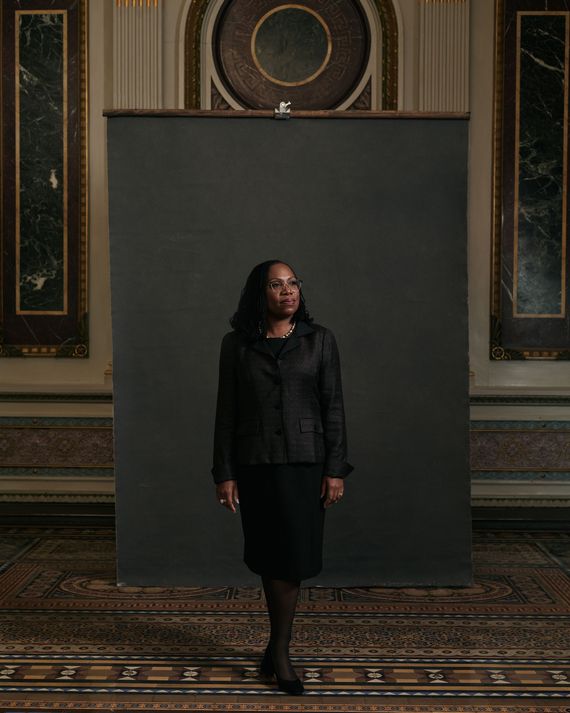 Judge Ketanji Brown Jackson, as photographed by Lelanie Foster.
Photo: Lelanie Foster/
The White House just released the first portrait of Judge Ketanji Brown Jackson after her historic, bipartisan Senate confirmation. The portrait was taken Friday morning by Lelanie Foster, a photographer from the Bronx. Foster, who predominantly takes images of Black women, was hand-picked for the occasion: "Lelanie's unique perspective and sensitive approach to her subjects allows for imagery that reflects intimately warm and organic moments in a most delicate human way," wrote a White House official.
In her confirmation today, Jackson thanked — among others — her family, her law clerks, the debate team at her high school, Miami Palmetto Senior High School, Barack Obama, and her daughters: "This is all pretty exciting for me as well, but nothing has brought me greater joy than being your mother." She said the notes she received from children are especially meaningful, speaking to hope and promise: "It has taken 232 years and 115 prior appointments for a Black woman to be elected to serve on the Supreme Court of the United States. But we've made it. We've made it. All of us." Jackson added that she is "the dream and the hope of a slave."
The pairing makes a lot of sense. Foster explores themes of sisterhood and community through her images. She is known for her work taking photographs of the film Queen & Slim as well as photographs of celebrities including Andra Day for this magazine.
"My photographic work explores themes and complexities of identity, beauty and womanhood through the lens of my experiences as a Black, Caribbean, multi-ethnic, Latina growing up in New York City," she wrote on a website called Lensculture.
We chatted with Foster, who was at the White House on this historic day.
You're calling me from inside the White House after being a part of history by photographing Judge Jackson right before her confirmation as the first Black woman in the Supreme Court. Tell me a little bit about how you feel right now? 
My heart is racing, and I'm running on an hour of sleep. I'm trying to take it all in and be present and not get distracted with the whole production of it all. I'm really focused on what this means and all the women, the Black women that came before me, to get me to this point. All those that also came before Judge Jackson to get her to her point and for her to be extending herself to me and to allow me into her space — I'm trying to reflect on it all and take that all in and cherish it.
I can hear in your voice how excited you are. I can imagine your adrenaline is running. How did it feel when you were approached with the opportunity to photograph Judge Jackson? 
It was a complete shock, and then everything kind of started to settle in, and I felt all the honor and gratitude. Then came the pressure of like, All right, get this shot. I started thinking about all the things that I wanted to say in the image and all the things that I wanted to portray in it. These things come together so quickly; it's different from other shoots where you have so much planning involved. Like, when can I scout the White House? You know what I mean?
But one of the most amazing things about it was that it was a really full circle moment because I had come off of working on this project for the New York Times that came out actually yesterday morning.
The Black women from her alma mater, Harvard, celebrating the win, right? 
Yeah, so I had just finished working on that project, I was in the midst of finishing up the edits with my editor, and I had spent all this time with these amazing women at Harvard — they're the next wave; they're the future, and they're following behind her. Having spent the day with 22 amazing, inspiring, and incredible Black women with all kinds of stories about how they got there.
It's been challenging for them. But also to experience their sisterhood throughout it all and how they helped each other, being in the room with them and watching them hype each other up throughout the shots felt very emotional.
Walk me through the shoot. 
It's a whole thing to get into the White House, which took about two and a half hours. I'm always an advocate for us to have as much time as possible to set up, get out lighting together, and all of that. We had her for about 45 minutes, which was a blessing. I didn't initially think we were going to have her for that long, but she came right in full of joy and smiles. She came in with her family, her husband, and her two daughters.
I had some Sade playin,g and I asked her if she wanted to listen to that. For me, Sade always calms me before a shoot, and it's a nice vibe, and she was loving it. She was like, "Let's stick to this." There was a song that came on that she started really feeling and dancing too. I'm so mad I can't remember which one it was, but we played Sade for the entire 45 minutes.
We took her up to the monitor, warmed her up, and told her she's a part of the entire process. "We want you to give your blessing to these photos and to feel good about them and be involved in it," I told her, and then it became an entire family effort. Her daughters would come to the monitor and say, "Mom, do this," and her husband was in tears. At one point, I asked, "What do you guys think?" Her husband's response was, "She's beautiful — she's always beautiful," with tears in his eyes while watching on with pride. He also pointed to me and told his daughters, "That's what excellence looks like." That really made my day.
I love it. You are what excellence looks like. This sounds like such an emotional yet fulfilling moment for all of you who were present. Photographing Black women is your niche, and this is a huge moment for Black women across the country. What's your vision when photographing us?
It's always about dignity. It's always about poise. It's always about strength, regalness, and reflection. That's always my guiding light when photographing us. That's also how I guide through a shoot with us — I mean with anybody, but definitely the principle. And it's important to express those feelings while we're photographing so that the connection is made between myself and the subject. That's what we're striving to create.
You definitely capture all of those things in your images and, of course, in today's portrait. As a Black woman, what does this appointment mean to you? 
It's so many things. The visual of seeing someone in those shoes and in that place is powerful for all the others to follow. Whether they make it to her position or not, it's so empowering and encouraging for the rest of us to see. I was telling someone earlier to think about all the people that came before her and then how she's going to continue to leave her mark and open space for others. The visuals of our existence is affirming to think about those who are coming after me. It's about keeping these spaces open, whether that's politics or photography, knowing it's possible and accessible is groundbreaking.
This interview has been edited and condensed for clarity.