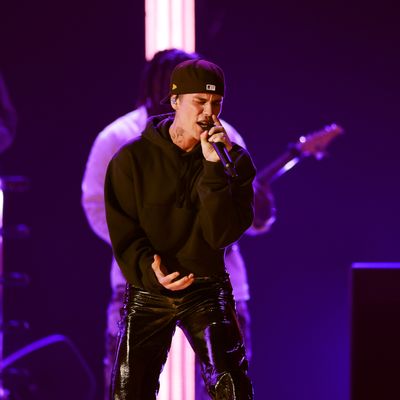 Photo: Rich Fury/Getty Images for The Recording Academy
I have a question for Justin Bieber, and it's not about his enormous Crocs. It has to do with his performance of "Peaches," his song with Giveon and Daniel Caesar, at tonight's Grammy Awards, which he packed with so many curse words that the network bleeped out virtually half the song. It was disappointing because — like many of the celebrities in attendance — I love "Peaches," despite my better judgment. Could Bieber really not be bothered to sing a clean version for the people who wanted to actually hear the song at home?
It also left me wondering: Does "Peaches" even have that many curse words? As far as raunchy songs go, it sounds pretty tame to me. It also seems pretty easy to lift the word "shit" out of the chorus, but I guess Bieber wasn't inclined to do so. In fact, now I'm wondering if he threw some extra curse words in, out of spite relating to his historic beef with the Grammy Awards. This is a song about fruit and weed, and I just wanted to sing along to his horny lyrics about his wife. I guess I'll just have to settle for watching Lady Gaga snap along.