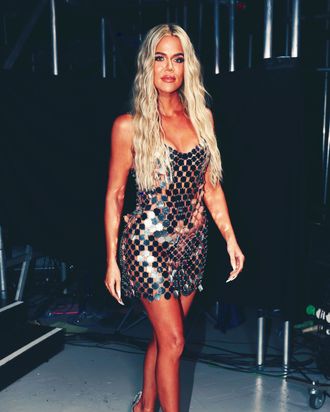 The culprit!!
Photo: Christopher Polk/E! Entertainment
The internet loves a mystery. For example, how did that perfectly wrapped In-N-Out burger end up in a street in New York when the closest location is over 1,600 miles away? Who was putting tiny hats on the pigeons of Las Vegas? More recently, internet investigators wanted to know why this photo of Kardashian spawn Chicago West and True Thompson at Disneyland looked so Photoshopped. Well, fellow sleuths, we have our answer to that last question: It looks fake because … it is.
On April 12, Khloé Kardashian, who shares her daughter True with ex Tristan Thompson, responded to a tweet noting some inconsistencies in one of her recent Instagram posts. Earlier that day, Khloé shared a video of True celebrating her 4th birthday at Disneyland, saying that it was True's first time at the park. Aw, how precious! If only it were … true! (This is a good pun. Please clap.)
How could this be True's first time at Disneyland when Kim Kardashian posted a photo of her daughter, Chicago, and True at the park back in December 2021? Hmm?? The answer: The photo Kim posted was fake. "Welllppp I fucked this one up," Khloé responded with many a laughing emoji. "Anyways….. let's focus on something else. Our show airs in a few days." An incredible pivot, but we do actually need to focus on the lie at hand.
The Kardashians have a long history of Photoshop allegations. However, Photoshopping one child's face onto another one's body seemed bizarre, even by Kardashian-Jenner standards. The Photoshop theory gained traction after a TikTok breaking down the photo went viral. The video claims True's face is actually Photoshopped onto the body of Stormi Webster, Kylie Jenner's daughter with Travis Scott, and later shows pictures of Stormi in the same outfit True appeared to be wearing. If you'd like to play along at home, here are the pictures, which Khloé confirmed were Photoshopped:
Now the Photoshop drama has gotten even more bizarre, with Kim weighing in on the situation. On April 27, a full two weeks after Khloé's response, Kim shared her side of the True-Stormi Photoshop debacle. "Sooooo you know I am all about my aesthetic," she wrote in an Instagram Story. "My IG grid is pink and blue lately. Isn't it so cute and well planned out?" Please, go on, Kimberly.
She confirmed that the original Disneyland picture was of Chicago and Stormi. However, she said that when she asked Kylie if she could post the photo, Kylie responded with the crying emoji: "She wasn't really feeling posting at the moment, and so I respect that!" Kim continued, "But it wasn't going to mess up my IG feed. Chi was wearing pink and it matched perfectly." So what is a Kardashian to do? Why, Photoshop in a different child, of course!
Kim shared side-by-sides of the original photo with Stormi and the edited version she posted with True. In addition to Photoshopping True's face onto Stormi's body, it looks as though Stormi's pants were altered from orange to pink. "You know how much a good aesthetic means to my soul," Kim wrote tongue in cheek. "And I will be damned if Kylie will ruin that for me and mess up my IG grid." She then thanked True for "taking one for the team," adding, "I didn't think it would be that big of a deal if her own mom questioned if I snuck her to a [sic] Disneyland for the first time."
While I'd hoped this was Khloé's own Photoshop work, it seems Kim was the mastermind behind the photo all along. In her IG Story, Kim also shared the originals of the recent photos of her and Pete Davidson at dinner, which some people thought had been edited to make Davidson's jaw look more "snatched." Those, she claims, were not Photoshopped. Regardless, I am taking this all to mean that graphic design is Kim's real passion, and who am I to judge someone for their art?
This post has been updated.