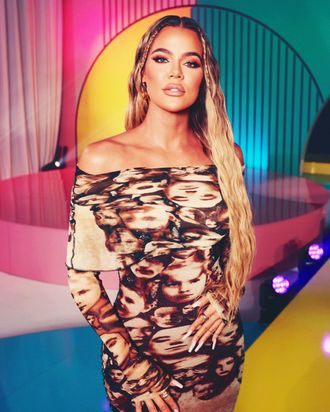 Photo: SHEIN X 100K Challenge 2021/Getty Images for SHEIN
It's been a long, twisty road for Khloe Kardashian and Tristan Thompson, but it looks like at least one of them has finally found peace with their breakup.
During an ABC News Special with Robin Roberts, Khloe addressed the future of her and Tristan's relationship, saying, "I still think he's a great guy, and he's a great dad. He's just not the guy for me."
Khloe and Tristan's notoriously tumultuous relationship last ended in June 2021, about a year after rumors that they were back together started circulating. Then, in January, a paternity test confirmed that Tristan had fathered a child with fitness model Maralee Nichols while he and Khloe were still dating. According to court documents from Nichols's paternity lawsuit obtained by the Daily Mail, Thompson admitted to having sex with Nichols at least twice after his 30th birthday party in March of 2021 — right around the time he and Khloe reportedly got back together. He also said that he had been "hooking up" with the fitness model for months. The paternity lawsuit was yet another chapter in Tristan's long history of infidelity, and he publicly apologized to Khloe when news of his other child broke, writing, "You don't deserve the heartache and humiliation I have caused you."
Khloe first acknowledged the paternity scandal in a March interview with Variety, where she confirmed that it would be addressed in the family's upcoming Hulu show, The Kardashians. Ahead of the show's premiere, she told ABC, "With Tristan I did feel incredibly safe in the beginning, and I felt really good for a time." She recalled when Tristan was unfaithful when she was pregnant with their daughter True: "I remember when he cheated on me right before I gave birth and I was able to still have him in the delivery room. It might have looked strange to the outside world, but when my daughter watches my home videos, those videos are going to be as pure and perfect as I was able to make them."
I have a feeling we'll get more insight into Khloe's journey to closure in The Kardashians, which premieres April 14 — Khloe can be spotted in the trailer ominously telling Tristan that "trust takes time." Still, the potential conclusion of this chapter bodes well for their co-parenting future, and also for our collective peace of mind.