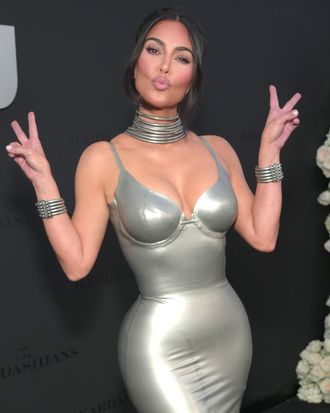 Photo: Kevin Mazur/Getty Images for ABA
"Staten Island is an amazing place." Kim Kardashian, reality-TV trailblazer, shapewear designer, lawyer-in-training, uttered these words on national television Friday, April 15. And she means it.
Kardashian gushed over Pete Davidson's hometown during an appearance on Live With Kelly and Ryan. Though she was presumably there to promote her family's new reality show, The Kardashians, conversation inevitably turned to her new relationship with the Saturday Night Live comedian — specifically their early Staten Island dates. "It's so much fun going to Staten Island. It's where he's from, I want to check it out," she said of her multiple visits to the New York City borough.
Kim's fondness for Davidson's hometown neighborhood is understandable. After the two connected when she hosted SNL, they reportedly went on secret dates around the borough, getting pizza — which Kim said was her favorite thing — and eating at Campania. Now, Kardashian is opening up a bit more about their date nights, telling Kelly Ripa and Ryan Seacrest that she and Davidson enjoyed "super low-key" dates on Staten Island. She also confirmed that, like any other New Yorker, when she's with Davidson in his hometown, "we take ferry rides everywhere." Perhaps she's even gotten a private ride on the ferry boat Davidson recently purchased with Colin Jost.
Though they do have to "sneak in and out" of places wherever they go — this is Kim Kardashian we're talking about — Kim said that "Staten Island has surprisingly been so low key for us." Which is interesting considering the duo were outed as a couple thanks, in part, to their Staten Island dates. She must really love it there.
Kardashian didn't say much else about their New York dates — or his Calabasas visits either — but she did take the time to call Davidson "the most genuine person."