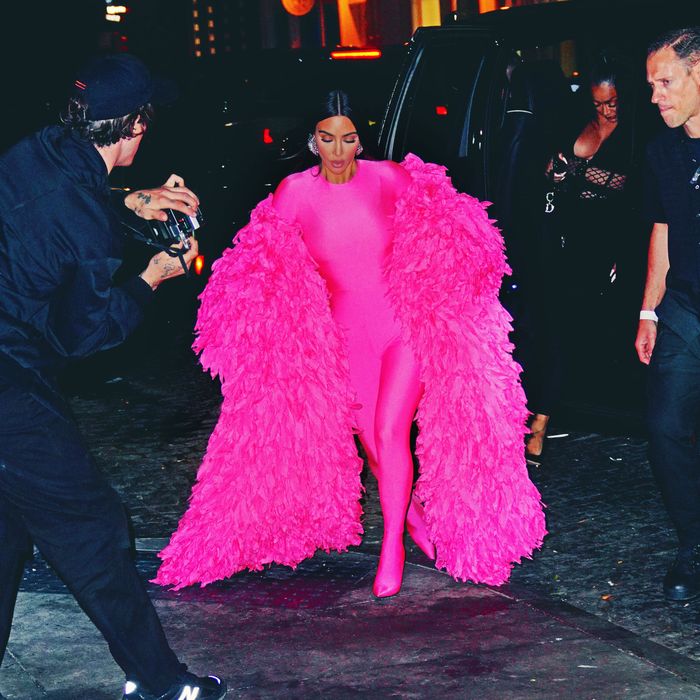 Almost every time I see Kim Kardashian out and about, this one question pops into my head: How does she pee in that? And now, after months of agonizing, I finally have the answer: She doesn't.
"I don't care how uncomfortable, I don't care how long — even if I have to wear a diaper or not go to the bathroom — I don't care what I have to do," Kim said during an appearance on The Ellen DeGeneres Show, pledging to always sacrifice comfort for fashion. While she apparently has some adult diapers at her disposal, thus far she's been able to hold it, but clearly it's only a matter of time. "I actually bought adult diapers when I took the bar exam because I didn't know how it worked, so I thought I had to sit there for eight hours straight," she confessed. She ended up getting bathroom breaks during the test, so she's still got a stash somewhere, ready to be worn with the bladder-binding outfit of Kim's choosing.
Honestly, I'm surprised she hasn't used diapers before. From skintight bodysuits, being literally wrapped in Balenciaga caution tape, to elaborate corset dresses, nothing Kardashian wears to events or red carpets looks particularly easy to maneuver for a quick bathroom break. Even some of her more comfortable ensembles, like her joots, seem physically at odds with any kind of business. Squatting in pants attached to five-inch stilettos? That's got disaster written all over it. And yet, she has persisted, diaper-free. Perhaps this year's Met Gala will be the event where that changes. It's fashion's biggest night, after all.