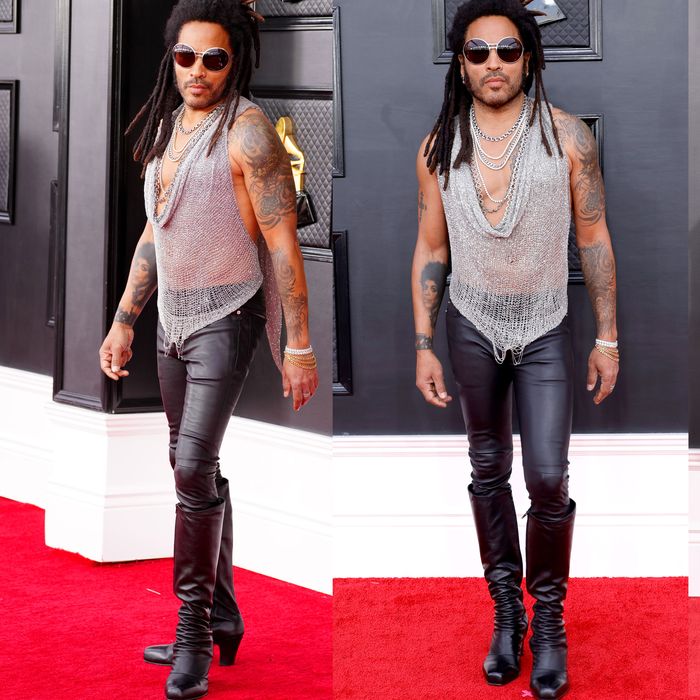 Photo: Jeff Kravitz/FilmMagic/Getty Images
At the 2022 Grammy Awards on Sunday night, there were a lot of big looks on the red carpet. We saw Crocs, corsets, and oversize corsages. Everyone seemed to be attending their own, very different event, in their own very different decade, but only a handful of people, in my humble opinion, actually looked like rock stars, and one of them was Lenny Kravitz.
This is not his first rodeo. He's been keeping the red carpet interesting since the '90s. In 1997, he wore a fuzzy yellow hat with a leather coat, printed pants, and sunglasses to the 39th Annual Grammy Awards, for example. Three years later, he wore flashy bell-bottoms when he brought his daughter, Zoë Kravitz, who looked cooler as a 12-year-old than most adults. Kravitz is also known for his sense of style off of the red carpet as well. To this day, you can't wear wear a large chunky scarf and not think of him.
This year, while everyone else seemed to be clawing for our attention with bright colors, wacky accessories, and other outrageous stunts, Kravitz kept his cool in a see-through silver chainmail going-out top by Natalia Fedner, which he wore with tight leather Saint Laurent pants and heeled leather boots. Per usual, he also accessorized with big, bug-eyed Christian Roth sunglasses and at least six layered necklaces. Altogether, he looked comfortable and like himself. (The same could be said for fellow rock star and style icon, Joni Mitchell.) But he also seemed to embody the rock stars who came before him, like Prince. (And maybe Paris Hilton, too.)
Rather than watch the ceremony, I'm now inspired to put on "Fly Away" and dance around my apartment, instead. Thank you, Lenny.