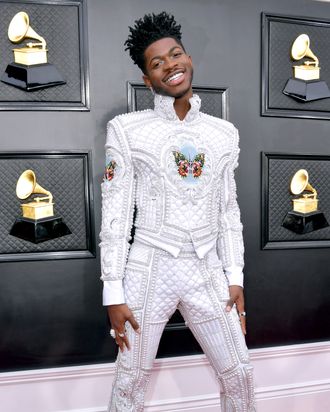 Photo: Getty Images for The Recording Academy
If we learned anything from Lil Nas X's Montero promo, it's that this man does not do anything halfway. Since its release, that album has given us an elaborate billboard campaign, a multiple-part Maury episode, a Satan-sponsored sneaker drop, a series of astoundingly horny music videos, and two jaw-dropping awards-show performances. So there was no way Lil Nas X wouldn't have a spectacle in store for tonight's Grammys, where he's nominated for five awards.
True to form, Lil Nas X's stunts began before he even hit the red carpet, when he tweeted an old photo of himself to announce that he'd already "arrived."
When he did make his entrance, it was, naturally, covered in diamonds and pearls. Towering over his fellow musicians in sky-high platforms, he wore a quilted white Balmain suit with jewels outlining the armor-like pattern. Butterflies are embroidered onto his chest and sleeves, and it's all topped off with blue eyeshadow, grills, and high hair. Did you expect anything less?
Lil Nas X then hit the stage to perform "Montero" and "Industry Baby," where he opened in a swooping, glittery black cape as tweets and TV clips about his controversial album swarmed the screen behind him. He stripped down to an ornate silver crop top for "Montero" before he and his backup dancers assembled in military-inspired jackets. Even Jack Harlow, who joined the choreography onstage for "Industry Baby," got in on the Lil Nas X spirit with little sparkles on his lapels and pants.
Lil Nas X is also up for a bit of industry-backed approval tonight — he's nominated for five awards — but it feels safe to say this night is already a slam dunk for Lil Nas X.