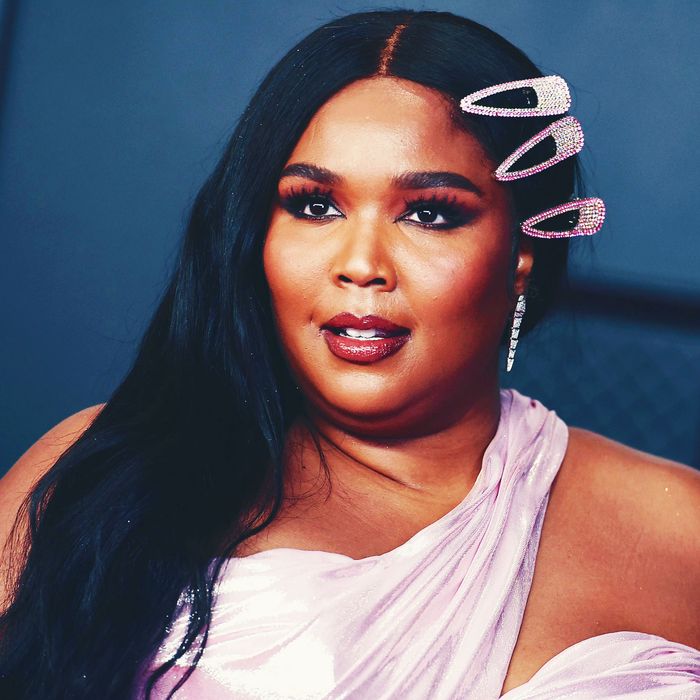 Photo: Jordan Strauss/AP/Shutterstock
I come bearing sad news for Chrizzo truthers: Lizzo has confirmed she is dating someone, and that someone is not Chris "Hot Buzz Lightyear" Evans. My condolences, Chris et al.
During a recent appearance on Andy Cohen's SiriusXM show "Radio Andy," Cohen asked if Lizzo was still seeing the guy she was spotted with back in February. (The two were photographed leaving Craig's restaurant in West Hollywood — on Valentine's Day no less!) To which Lizzo laughed and laughed before eventually confirming, "Yeah, whatever. Yeah." She also confirmed that this mystery gentleman was at Saturday Night Live this past weekend, when she did double duty as host and musical guest. "Damn, you're really good," she told Cohen. "You get the scoop, don't you?"
You know who's even better? The Shade Room. In March, Lizzo posted an Instagram video of herself kissing (or, I guess, about to kiss) someone, and The Shade Room was able to identify him from a close-up of some braids and a hint of chin. (They didn't share his name but did post a few pictures of him if you would like to gaze upon Lizzo's very hot boyfriend.)
But, really, this should come as no surprise to anyone who has been paying attention: Lizzo was seen with the same man back in January. And she was photographed holding hands with him last week, before her appearance on the Today show.
Despite being extremely open about her affection for Chris Evans — she even mentioned him in her SNL monologue when she joked about "dating every little white boy in Hollywood" — Lizzo dodged a question about her love life in an interview with Variety earlier this year. When the publication asked if she was currently in love, she indulged the question, saying, "A little bit." But when asked point-blank if she was dating anyone, she responded, "I ain't talking about this. We're talking about Big Grrrls and how we're changing the world, goddamnit." If there's one thing more powerful than love, it's a shameless plug.
Anyway, congrats to Lizzo and this hot unidentified man!