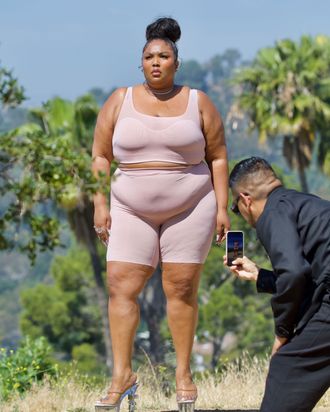 Photo: Diggzy/Shutterstock
Lizzo does a lot of things I will never do. She twerks anywhere and everywhere. She writes feel-good hits. She slides into Chris Evans's DMs, launches an inclusive shapewear brand, and now, she's hiking in ten-inch platform heels.
Much like the thought of drunkenly sliding into Evans's DMs, the idea of wearing any kind of heel on a hiking trail gives me serious anxiety. But stilettos with a high platform and a fancy carved-out heel? I'm going to need to lie down for a second. And the photos are even more terrifying. Look at how those shoes barely balance on the rocky terrain! And they don't even have an ankle strap for support. Lizzo must have some great core strength, because I know I would have fallen flat on my face. My ankles are shaking and my lower back is aching just looking at her.
Thankfully for her ankles, Lizzo doesn't appear to have actually gone hiking in these see-through platforms. It was for a promotional shoot for her new shapewear line, Yitty, which launches on April 12. For the shoot, the singer paired the sky-high shoes with a matching set from her new line, which, unlike the heels, looks very hike-appropriate. Still, even the act of posing for photos in these shoes on that trail is sending me into a panic. Lizzo, may you walk with impeccable balance and strong ankles.