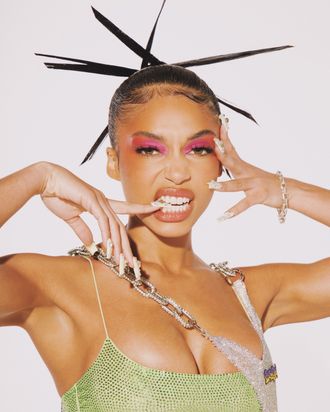 On a recent day in Los Angeles, Lori Harvey is sitting on set wearing a white robe before changing into neon lace tights, a bodysuit, and maxi puffer coat. Her makeup is reminiscent of the '90s and her nails are adorned with jewels. The model and beauty entrepreneur is in the midst of her cover shoot with Instagram, which has just launched its first magazine, The Zine.
She just came back from Miami, one of her favorite cities, but the club scene isn't for her — she'd much rather have girls night at Carbone. Despite all that her life entails and the on-the-go Harvey we see on Instagram, she promises that she's a homebody. Her friends have other ideas though, chuckling in the back hinting at the fact that it's not true.
To celebrate her The Zine cover shoot, we also spoke to her on what her Instagram feed looks like, what being "that girl" entails and more.
The girls on Instagram love your style and a lot of people are inspired by it. What does your feed often look like?
I've been really into the Euphoria makeup trend, which was very hyper present in this shoot. In general, my feed has a lot of style inspo: minimalist, effortless looks. I actually really love interior design and anything revolving around home goods. So I have a lot of that and then like skin-care stuff and makeup trends.
Do you ever see the memes people make of you? 
I have seen some of them and I think they're actually hilarious. I think you have to make light of yourself and just laugh at things like that. There was one that was like, "I'm starting to see everyday why Lori Harvey doesn't say shit," which I thought was hilarious.  
Based on social media, there is this conception that you don't really say much. But, on a real note do you ever really have to shut it all off and take social media breaks from Instagram and talk to no one?
I think social media is such a great tool and when used the right way it can be amazing, but there are also downsides to it so I think it's important to be able to just unplug, take some time for you, breathe, and live in the real world. I try to take breaks weekly honestly. Usually a Sunday or when I have a chill day where I'm just unplugged and do nothing.
So what's a perfect day like for Lori Harvey? 
Oh my goodness, the perfect day would be getting in the sauna, it rejuvenates everything and helps sweat it all out and feel good. I love doing a face-mask routine which entails multiple masks in a day, maybe like four or five. Then I'll lather on all my serums and moisturizers after and let my skin absorb all that goodness. Then, of course I want to get some good food, I'm a foodie. I love sushi, that's my favorite. But if I want something hearty I'll probably go for pasta or even like Roscoe's to get some chicken and waffles. That's probably what I'll eat on those days where I can just chill because I want all the stuff that I don't normally eat. I want desserts, fried chicken, pasta, rice, whatever my heart desires. Then I try to find a good show or a good movie.
I'm glad you bought up what you don't normally eat, because we have to talk about this body and workout routine. Do you take classes daily or go to the gym? 
My go-to right now has been Pilates. I feel like that has completely transformed my body and really leaned me out and gives me long lean muscles versus like when I would just go to the gym. I love Pilates on the reformer, but I also like to incorporate hot pilates, which is really good to get a nice sweat. I love to sweat a lot in my workout because then I feel like I really did something.
Discipline isn't an overnight thing, you have to take it day by day. I don't recommend doing crash diets because it can be a little bit harder to stick with from my own personal experience. Gradually just making small lifestyle changes over time you'll start seeing progress. My ideal workout routine now is five to six times a week, but I had to work myself up to that.
Everyone calls you "that girl," which basically means prioritizing yourself. What does being "that girl" mean to you?
You are doing things for you, doing things that make you happy, putting you first and doing all the things that elevates you to your highest self and makes you feel like your best self. That is being "that girl."
Are you prepping for the Met Gala? 
Oooo, am I? We shall see, we shall see.
It's been a while since I went. My first time going was with Dolce & Gabbana in 2017. I can't even describe it, it was such a crazy moment for me because the Met is like the event of all events. It's huge and I was much younger at the time so I was just so fascinated with everything and everyone there and all the fashion. I was just taking it all, I was overwhelmed in the best way.