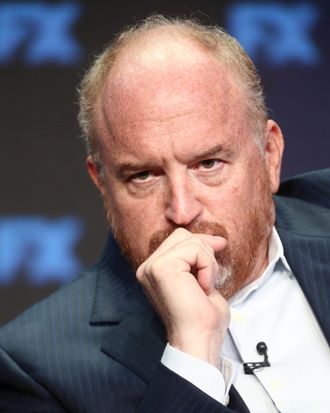 Photo: Frederick M. Brown/Getty Images
Of all the comedians of all the world … did it have to be Louis? Controversial comedian Louis C.K. won the 2022 Grammy for Best Comedy Album tonight, beating out Lavelle Crawford, Chelsea Handler, Lewis Black, Nate Bargatze, and Kevin Hart.
In case it wasn't clear before, being accused of sexual misconduct in the workplace by multiple women, over multiple years will not stop people from voting for you to win a huge award. (I know, shocking!) C.K.'s Best Comedy Album win is disappointing, but not surprising. He's just one of the very problematic men who were nominated at the 2022 Grammy Awards. Marilyn Manson, who has been accused of sexual assault and abuse by his ex Evan Rachel Wood, as well as a handful of others, is up for his collaboration with fellow problematic man Kanye West.
West, meanwhile, was banned from performing at the Grammy Awards after he used racist slurs to describe host Trevor Noah. But, like C.K., that didn't stop him from winning a Grammy on Sunday. He won Best Melodic Rap Performance for "Hurricane" with his collaborators the Weeknd and Lil Baby. He also won Best Rap Song for "Jail," a version of which features both Manson and DaBaby, an artist famous for making homophobic comments onstage. (It's unclear if Manson or DaBaby were on the version of the song that was nominated.) None of these awards were televised (a smart move!), but Ye could still take home some onscreen awards. His album Donda is up for Album of the Year.
And then there's Nas, who was invited to perform and was nominated for Best Rap Album and Best Rap Song. Nas was accused of being abusive and violent by his ex, Kelis. (He has denied the allegations.)
What was that about cancel culture being "real"?