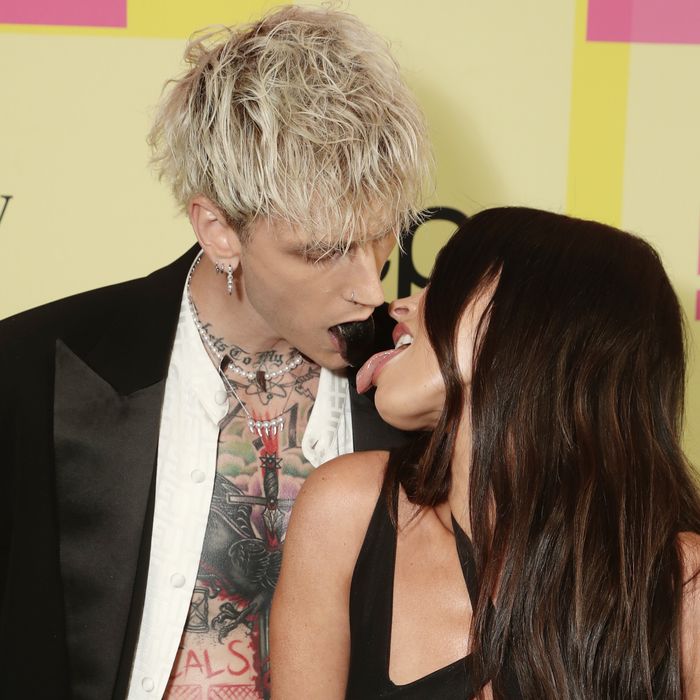 Photo: Todd Williamson/NBC/NBCU Photo Bank via Getty Images
Machine Gun Kelly, also known as Colson Baker, has come to wish you and your loved ones a happy 4/20 by dropping the trailer to his new movie, Good Mourning. The film, which he co-wrote and co-directed with Mod Sun (who also stars in the movie), is a stoner comedy that looks fresh out of the early aughts. But its main appeal: Megan Fox, a.k.a. Machine Gun Kelly's "twin flame" and fiancée.
Baker stars as London Clash (lol), an actor who, after getting a text from his girlfriend that says "Good Mourning," rushes to find out if it means he's been dumped. In a twist I certainly did not see coming, Fox doesn't actually play Baker's girlfriend or apparent love interest in the movie, at least not according to the trailer. That role is reserved for Becky G, who plays Apple, the supposed dumper. Fox instead plays a woman whom London meets while trying to find Apple to confirm the meaning of her vague text. To find out, he's going to have to find his girlfriend first, and that leads him to a rush around town with his ragtag team of stoner friends. Chaos ensues. It's a stoner odyssey, à la Dude Where's My Car or Harold and Kumar.
The trailer gets chaotic really quickly, but it needs to be said that it also includes Dove Cameron and a cameo from Dennis Rodman for some reason. I don't know what's weirder, to see MGK Fox not all over each other, or to see Rodman punch the musician in the face. To quote Baker himself, "I can't believe we got Dennis Rodman in the movie."
Despite the fact that there is no tongue-touching between Baker and Fox in this trailer, I do feel like it gives me a better understanding of their entire relationship. The stoner comedy certainly puts their first interaction into perspective. "I looked up and I was like, 'You smell like weed,'" Fox told British GQ of their first meeting. "He looked down at me and he was like, 'I am weed.'" Checks out.
Good Mourning comes out May 20 in theaters and on VOD.