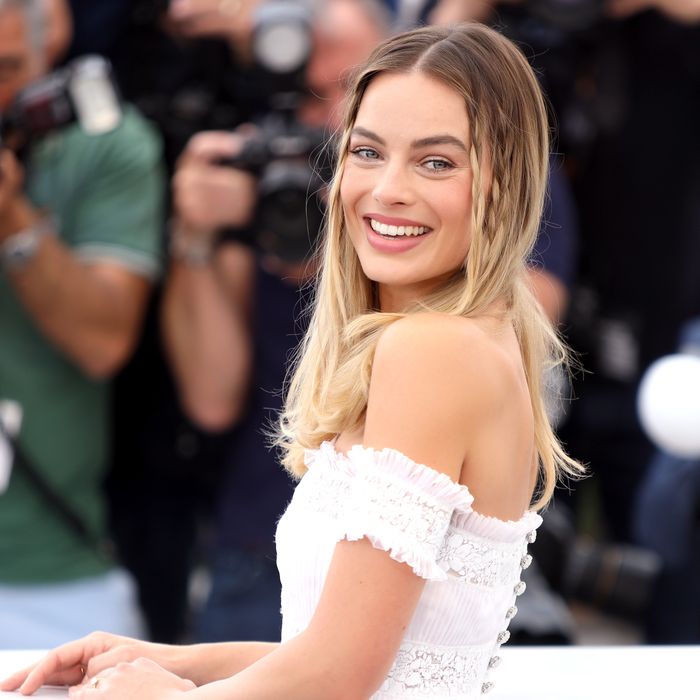 Photo: Laurent KOFFEL/Gamma-Rapho via Getty Images
Tough news for all you grumps out there who, like me, assumed that the Barbie live-action movie would be a poor attempt at capturing the charm and unrelenting catchiness of Aqua's 1997 hit "Barbie Girl": The movie looks … kinda good. Warner Bros. released the first image of Margot Robbie as Barbie (one assumes) at Cinema Con on Tuesday, April 26, and I have to admit, they nailed it.
The image doesn't reveal much other than the fact that (a) Margot Robbie will be playing a human-proportioned Barbie doll, and (b) they're sticking with the Barbie Dream House aesthetic. In the photo, Robbie is giving Malibu Barbie, wearing a blue-striped halter top with matching headband and bracelet and sitting in the front seat of Barbie's bubblegum-pink convertible. If I had to guess, I'd say it's modeled after the "Star'Vette" dream car Barbie had in the '70s, though I can't say for sure. (And, even if it is inspired by Barbie's convertible dream car, that doesn't necessarily mean the movie will take place in the '70s.) The car is, of course, parked in front of a complimentary fuchsia backdrop that looks like it's supposed to be a fake brick wall, like the cardboard box a Barbie accessory comes in that's meant to set the scene.
Barbie is set for release on July 21, 2023, and there's still a long way to go, but so far, I'd say it looks pretty good. It helps that the already-announced cast includes Ryan Gosling as Ken, Kate McKinnon, Alexandra Shipp, America Ferrera, Simu Liu, Hari Nef, Will Ferrell, and Robbie lookalike Emma Mackey (best known for her work on Sex Education). And then there's co-writer Noah Baumbach, who teamed up with writer-director Greta Gerwig, who is said to be putting her own unique spin on the plastic bombshell.
As a Barbie skeptic, I have to admit, the sight of Robbie sitting in the Barbie dream car is pretty intriguing. At the very least, the photo confirms that Robbie will not be acting with prosthetics giving her the actual proportions of a Barbie doll, which would have resulted in a truly horrific image. Life in plastic may be fantastic, but it can also require one to have boobs bigger than your head. This is much better.