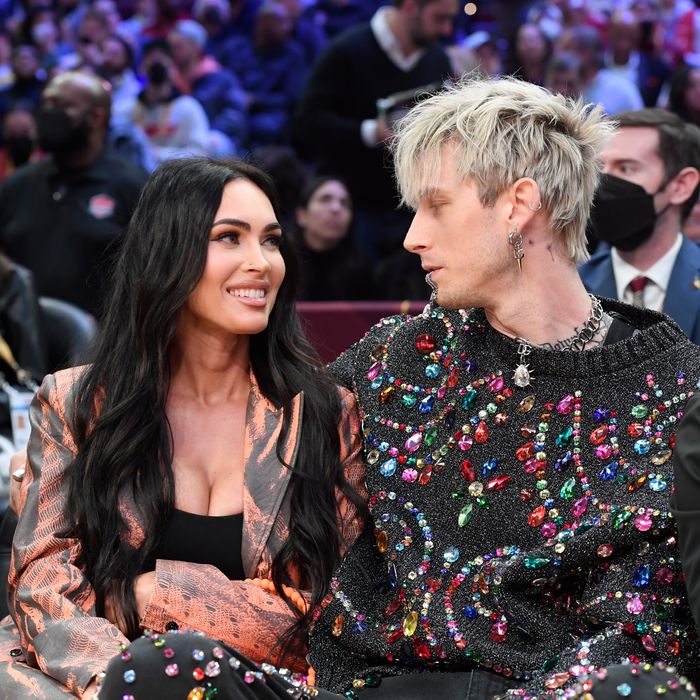 Photo: Juan Ocampo/NBAE via Getty Images
If there's one thing Megan Fox and Machine Gun Kelly are gonna do, it's extreme PDA. But another thing they do is post effusive Instagram captions to celebrate relationship milestones and special occasions, like MGK's (a.k.a. Colson Baker) birthday.
The singer turned 32 on Friday, April 22, and there was no way his fiancée could let the occasion pass without a lengthy Instagram post. "Today your mom told us that you were born a month early," Fox wrote in her tribute. "You were SO meant to be a Gemini, you charming mercurial Svengali." OK, let's stop it right there. "Charming mercurial Svengali"? So, she's saying Machine Gun Kelly is a charming and unpredictable seducer/mind-controller? Okay, that checks out actually. This is the man who gave his fiancée a ring that is painful to take off.
The actor continued, saying his mom described Baker as a "cuddly and fussy at the same time" baby. "The world has no idea what a gentle, beautiful heart you have. How generous and how thoughtful you are … How absurdly strange and smart and witty you are … You are by far the most unique human I have ever met." Given that Fox once said Machine Gun Kelly's first words to her were "I am weed," I'm gonna go ahead and say that calling him "absurdly strange" is also entirely accurate.
"And if I could get the boy who has everything something special for his birthday — I would lift the veil off of their yes so they could see what I see," she continued. "You're such a gorgeous soul. I'm honored to love you and to be the recipient of your love. Happy Birthday love of my life." Megan Fox and Machine Gun Kelly can be somewhat of a spectacle together, but even my cold, cold heart can admit that it felt a bit warmer reading this part of Fox's birthday ode to her fiancé.
I hope they had an "absurdly strange" day that ended with some cuddles and some fussiness.