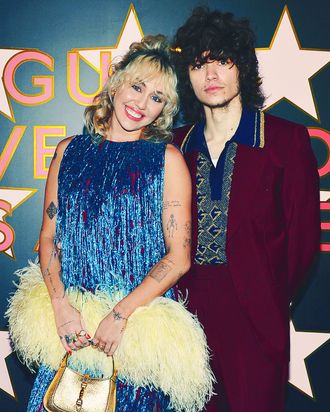 Photo: Donato Sardella/Getty Images for Gucci
Horny season is upon us, and, though you might argue that rampant PDA is a year-round activity, Miley Cyrus is reminding us that now is the time to really lean into it. Cyrus and her drummer boyfriend, Maxx Morando, confirmed dating rumors on Thursday by making out hard in the streets of L.A.
Cyrus, who broke up with Australian singer Cody Simpson in August of last year, first mentioned Morando in a September interview with Vogue, saying that he illustrated the print on one of her outfits, and was later spotted with him in November. They were holding hands at a New Year's Eve at a party in Miami, and in February, they took a sexy little vacation to Cabo. It wasn't until this week that E! News caught them making out stateside. Party in the U.S.A., indeed.
Morando is the drummer for an indie rock band called Liily, and if his voluminous mullet is any indication, these two have quite a bit in common. One source who confirmed their relationship in January said as much: "They are both artistic and creative," the source told E! News, "so they bond over being musicians." Still, there is nothing that brings two horny celebs together like a passion for public kissing. It's only a matter of time until they're touching tongues.