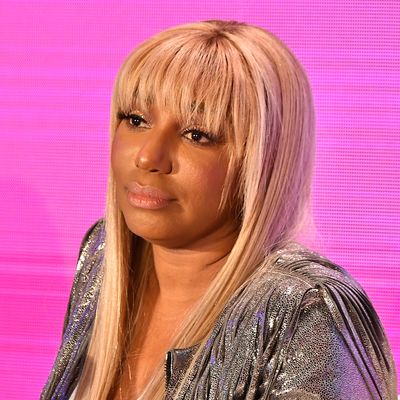 Photo: Paras Griffin/Getty Images
On Wednesday, former Real Housewives of Atlanta star NeNe Leakes sued the show's producers, Bravo, and Andy Cohen for allegedly fostering a toxic and racist work environment during her seven seasons on the show. In the suit — which was obtained by The Hollywood Reporter — Leakes, 54, says she complained to executives about years of racist remarks from former co-star Kim Zolciak-Biermann, who is white, but that only Leakes, who is Black, faced consequences for the complaints — including being allegedly forced off the show in 2020. "NBC, Bravo, and True [Entertainment] foster a corporate workplace culture in which racially insensitive and inappropriate behavior is tolerated — if not encouraged," the suit reads.
Leakes — whose legal name is Linnethia Monique Leakes — starred in Real Housewives of Atlanta from 2008 to 2020, winning viewers over with her "rich bitch" quips and vibrant array of wigs. But offscreen, the suit claims Leakes and other Black castmates endured frequent "racially offensive and stereotypical" remarks from Zolciak-Biermann, 43, who allegedly called Leakes's home "a roach nest," said "words to the effect of, I don't want to sit around with NeNe and eat chicken," falsely claimed Leakes used drugs, and called fellow Black housewife Kandi Burruss's neighborhood a "ghetto." The suit also alleges that Zolciak-Biermann used the N-word in reference to Leakes and other Black castmates after an argument.
Leakes's suit — which argues that Real Housewives production companies violated federal employment and anti-discrimination laws — alleges that executives failed to take "meaningful action" against Zolciak-Biermann after the complaints, and instead rewarded her with her own spinoff show, Don't Be Tardy. During negotiations for season 13 of Real Housewives — around the time Leakes says she was removed from the show — the suit further claims executives tried keeping Leakes off episodes pertaining to Black Lives Matter, despite her being a vocal supporter of the movement. (At the time, a spokesperson for Bravo denied that Leakes had been fired, telling Essence in 2020 that conversations for the next season were "still ongoing.") "Mrs. Leakes — Bravo's historically most successful Black female talent — should have been embraced by NBC, Bravo, and True," the suit says. "Instead, [they] forced her out of the 'house she built' by denying her a regular role."
We have reached out to Andy Cohen and Truly Original entertainment for comment. Bravo has declined to comment at this time.