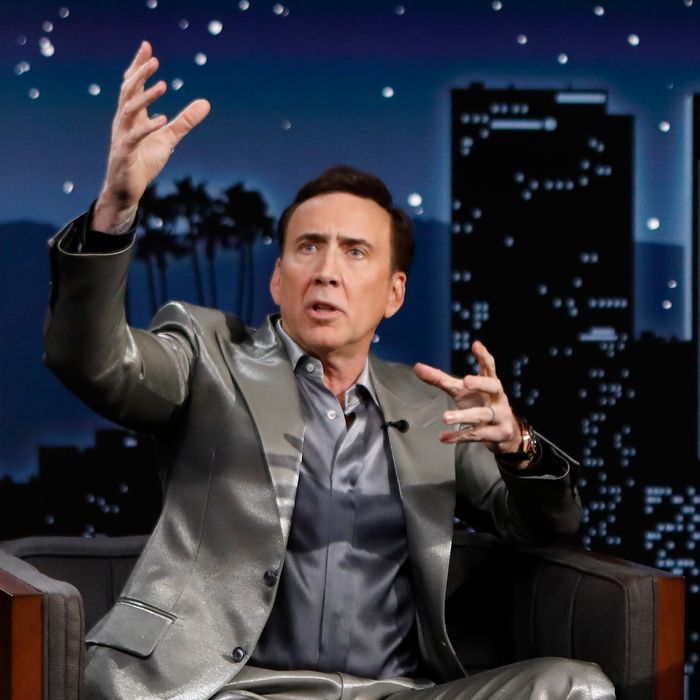 Photo: Randy Holmes/ABC via Getty Images
Years of eccentric behavior — and acting choices — have turned Nicolas Cage's life into a series of urban legends. Did he really buy an octopus? (Unclear.) Does he really own a crow that insults him? (Yes, he does. Apparently he gives visitors who want to say hello sunglasses to keep the crow from poking his guests' eyes out.) And what about that one about the two-headed snake?
It really should surprise no one to hear that Cage did, in fact, once buy a two-headed snake. What is surprising is how much he paid for it. During his appearance on Jimmy Kimmel Live Thursday, April 21, Cage confirmed that he had bought a two-headed snake after he dreamt about a two-headed eagle. "Why, I don't know, I was dreaming about two-headed eagles. And one night I had this dream, and then the next day, my manager at the time got a phone call saying, 'Oh, wow, I've got a two-headed snake that I found in Northridge and I think your client, Nic Cage, might be interested,'" Cage recounted. "I won't mention how much it cost, 'cause that's going to go everywhere," he added.
Unfortunately for Cage, he had already confirmed a story about him giving $20,000 he won gambling one night to an orphanage, giving Kimmel the perfect reference point. "More than the orphanage got, or less?" Kimmel asked, to which Cage responded, "More. It was like four times the amount." I'm no mathematician, but if my calculations are correct, that means that Nicolas Cage once purchased a two-headed snake — on a whim — for at least $80,000.
The kicker: he didn't even keep the snake! Apparently the two heads of the snake didn't get along, especially when meal time came around. "I would have to put a spatula between the two heads to feed them, and it just got a little too freaky for me," Cage said. So, he surrendered the animal to a zoo. Honestly, can't say I blame him.